Floating bridge: Ferry service halted by chain failure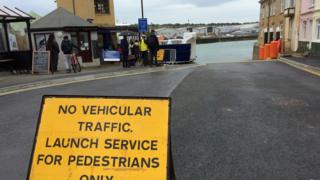 The Isle of Wight's troubled chain ferry has been withdrawn from service following the latest in a series of technical failures.
The council said the ferry would be out of action until at least Monday after its west prow chain snapped.
The ferry has suffered a number of technical faults since May 2017, including another broken prow chain.
Independent councillor Karl Love said the ongoing issues had turned the island into a "laughing stock".
A replacement launch is operating for foot passengers while vehicles have to make a 12-mile (19km) round trip by road.
The ferry was taken out of service in February when the chain which operates the prow broke midway through crossing the River Medina.
A council statement said: "Please be aware that a foot passenger only service is running between 5am and 11pm until further notice, due to a mechanical issue with the floating bridge.
"We're really sorry about the disruption this may have caused."
The council has refused to confirm if the damaged chain was the same one which broke in February.
The £3.2m Floating Bridge Number 6 entered service in May 2017 but was immediately beset by problems - cars scraped their bumpers while disembarking and it suffered an electrical fault on its second day in service.
There have also been groundings, complaints about its noise and a crew member was injured in the engine room last month.
Mr Love posted on social media: "I express the anger of our communities who have offered many suggestions but little has been implemented or changed."
---
Floating bridge timeline: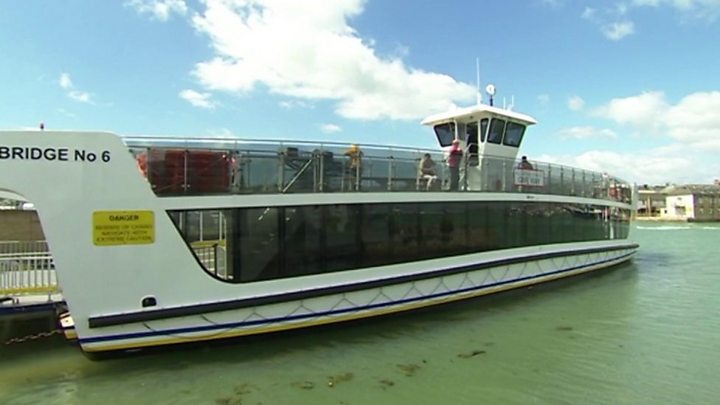 13 May 2017 - Vessel launched
14 May - Broke down
15 May - Service suspended by MCA
7 June - Ran aground
9 June - Ran aground for a second time
9 June - Council said it had cleared "silt build-up that caused the floating bridge to ground"
10 June - Ran aground a third time
13 June to 3 July - Taken out of service at low tide
30 June - Broke down due to electrical fault
21 July - Withdrawn from service at night due to noise levels
4 September - Withdrawn from service indefinitely
11 December - Service resumed as part of extended trial
2 February 2018 - Broken prow chain
26 September - Crew member injured in engine room
25 October - Snapped prow chain
---