Man mistaken for 'scarecrow' run over on Alresford road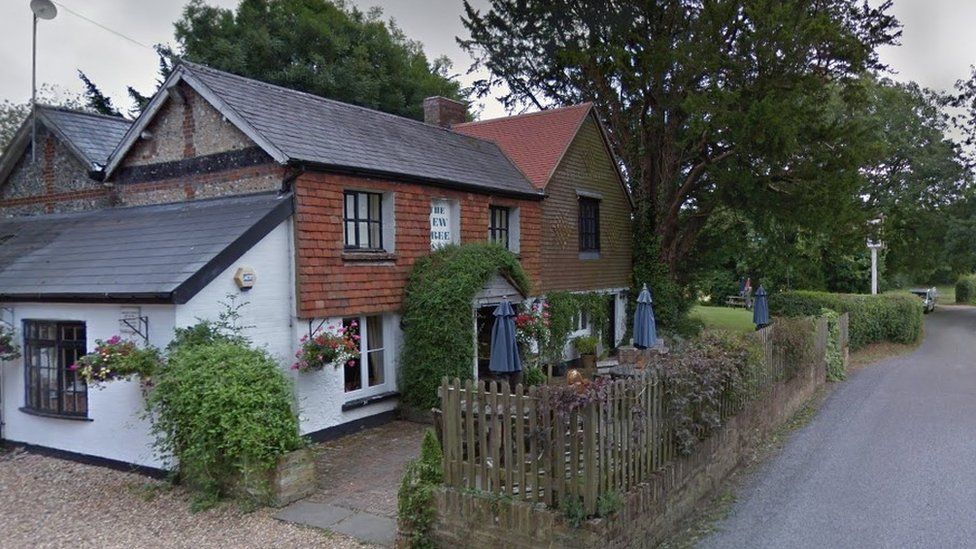 A woman who ran over a man lying in the road after she mistook him for a "scarecrow" has been jailed.
Marian Watt, 60, drove over 55-year-old Laurence John outside a pub in Alresford, Hampshire in November 2017.
Winchester Crown Court heard she had stopped but thought he was "a Guy Fawkes guy or a scarecrow" so drove on. He suffered multiple injuries.
She was jailed for a year after being found guilty of causing serious injury by dangerous driving last month.
Watt, of South Town Road, Alton, was also banned from driving for two years.
The court heard Mr John "wasn't drunk but at most a little merry" when he left the Yew Tree to walk home alone on 25 November 2017.
Christopher Amis, prosecuting, said: "For some reason, which even now remains unclear, Mr John ended up lying prone in the middle of the very dark road on what was a very cold night."
Mr Amis said Watt was driving home in her Toyota Land Cruiser after having dinner with friends.
'Pillar of the community'
He told the court Watt's account was that she stopped and got out of the car when she came across Mr John lying in the road.
"But [she] thought what she was looking at was a Guy Fawkes' guy or a scarecrow or something of that sort simply lying in the road."
She then drove over Mr John, dragging him 23ft (7m) down the road.
He suffered multiple fractures and injuries as a result and spent four months in hospital.
Sentencing, Judge Keith Cutler described Watt as a "pillar of the community and church" who had made a "dreadful, inexplicable and horrific decision".
"That decision was found by the jury as one that no careful or competent driver would have done, no sensible driver would have done."
PC Dave Mitchell, of Hampshire Constabulary, said the crash had "tragic and far reaching consequences" for the victim.
Related Internet Links
The BBC is not responsible for the content of external sites.