New rules on low visibility sailing after Cowes ferry yacht crashes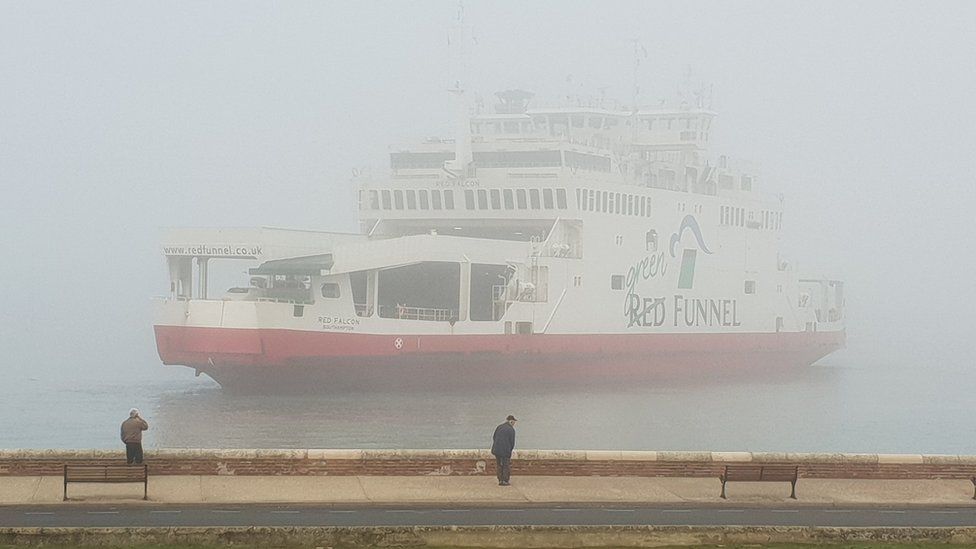 New rules on sailing in restricted visibility off the Isle of Wight have been introduced after two car ferries struck moored yachts.
Red Falcon ran aground after striking a yacht off East Cowes on 21 October, weeks after its sister ship hit a catamaran and a channel marker post.
Cowes Harbour Commission said large vessels could now not operate in less than 0.2 nautical miles visibility.
It said safety was its "number one priority".
Greylag, a Contessa 32 yacht, sank after being hit by the ferry.
It came after a catamaran and a channel marker post were struck by sister ship Red Eagle and two yachts were later found drifting early on 27 September.
Cowes Harbour Master Capt Stuart McIntosh said: "Cowes Harbour Commission takes these incidents extremely seriously and is prioritising the investigation to ensure that lessons will be learned and any actions or recommendations to further improve safety will be implemented as soon as possible."
The new restrictions mean vessels of more than 48m are not allowed to operate when visibility is less than 0.2 nautical miles (370m). It comes after a temporary order of 0.1nm was brought in following the Red Eagle incident.
A Local Notice to Mariners has also been issued advising all vessels, including leisure craft, not to sail if visibility is less than 0.2nm.
Marine Accident Investigation Branch (MAIB) investigations are continuing.
Red Funnel previously said it was co-operating with the official investigations and the navigational teams remained suspended pending the outcome of the investigation.
A spokesman said it had already changed its procedures on operating in restricted visibility as a "precautionary measure" ahead of the changes to the harbour commission rule changes.
"These changes are not expected to impact on the reliability of the service or the frequency of weather-related cancellations," he added.
Related Internet Links
The BBC is not responsible for the content of external sites.