Southampton Children's Hospital meets A&E unit fund target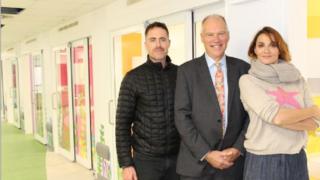 A campaign to help finance a £5.1m children's emergency and trauma department at University Hospital Southampton has reached its target.
The hospital said it had hit its £2m fundraising goal five months early.
The fundraising campaign for the department, based at Southampton General Hospital, started in 2016.
The appeal was given the backing of then chancellor George Osborne, who agreed to match fund the money raised to build the facility.
Campaigners had until the end of the 2018/19 financial year to unlock the allocated funds which has now been achieved.
The money was raised through the Southampton Hospital Charity and The Murray Parish Trust, which was founded by actors Sarah Parish and James Murray who lost their daughter, Ella-Jayne, to a congenital heart defect in 2009.
The further £1.1m has been allocated by University Hospital Southampton NHS Foundation Trust.
Currently, children have to be treated in the adult A&E department.
The new children's A&E, which will include a children's emergency X-ray department and a short stay unit, is expected to open at the hospital next summer.