Cancer battle mum fulfils wish to see son in Iraq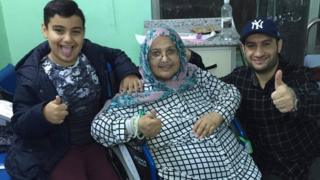 An Iraqi woman who was flown home to fulfil her dying wish to see her son thanks to a £60,000 fundraising effort has died.
Cancer patient Arij Altai, 38, was stuck in Southampton without her husband or eight-year-old son. She was too ill to fly on a passenger plane.
Three weeks ago she flew home on the private specialist medical flight to Baghdad.
She passed away on Saturday surrounded by her family.
The money for the flight was raised through a fundraising page set up by her friend Deborah Cornah.
She said: "I think the thought of going back to Iraq to be with her son and her wider family is what she was living for.
"We're thankful that we managed to do it."
Mrs Altai and her husband, Ahmed, came to Southampton five years ago with their son to study for a PhD in linguistics at Southampton University.
But by the time their visas expired, Mrs Altai had been admitted to Southampton General Hospital with terminal cancer and was unable to return to Iraq with her family.