Maiden yacht re-starts sail to India after repairs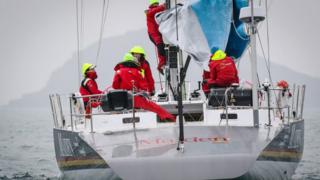 Famous racing yacht Maiden has re-started its round-the-world tour following repairs.
The yacht's crew had to pause the first leg of their tour from Hamble to Kerala in India after just 36 hours when a number of issues were found onboard.
The all-female crew, who had sailed to Plymouth for repairs, resumed the first leg of their 54,000-mile voyage on Saturday.
Maiden is reported to be currently heading to the Gibraltar Straits.
A statement posted online said the "skipper and crew were all well and delighted to be on their way".
Tracy Edwards said: "It was always expected that there would be some teething problems on the first heavy weather sail. We were glad we had found the issues now rather than later."
Maiden set sail on 7 November as part of "The Maiden Factor" campaign to promote girls' education.
The yacht and its crew are expected to call at 22 destinations over two years on a global campaign to promote girls' education.
The crew are sailing with a baton which is filled with messages of hope and encouragement written by pupils from the UK to girls around the world who are unable to access an education.
The notes are being carried on Maiden in the baton to each stopover, then children's messages will be added in each country and passed on to the next one - like a relay.
Led by Tracy Edwards, Maiden made history in 1990 when its female crew became the first to sail the Whitbread Round the World Race.
The team won two legs of the race and crossed the finish line second overall.
The 58ft (17m) boat was sold shortly after the race and was found in disrepair in recent years in Mahé, Seychelles, before being taken for a refit in Hampshire.
The project is being supported by Princess Haya Bint Al Hussein of Jordan in memory of her father, King Hussein I.