Six arrested in Southampton sex trade slavery raids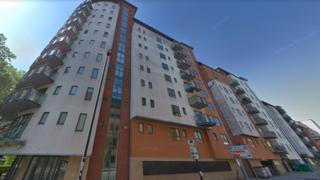 Six people have been arrested and two female victims discovered in an anti-slavery operation related to the sex industry.
Police raided homes in Portsmouth Road, Garton Road and Oceana Boulevard in Southampton on Tuesday morning.
Two women, aged 52 and 49, were detained on suspicion of holding a person in slavery or servitude.
Two vulnerable women aged 35 and 40 are being treated as victims and supported by specialist officers, police said.
The force also arrested two men, aged 64 and 37, and two women, aged 43 and 58, on suspicion of managing a brothel used for prostitution.
All six suspects remain in custody, Hampshire Constabulary said.
Det Sgt Emma Barrow said: "This was a proactive intelligence-led operation, the investigation which now follows will be complex and involves UK Visas and Immigration.
"We have identified two vulnerable women who are working with our specially trained Amberstone team to ensure they have access to the support they need."