Southampton hospital power cut: 99 operations cancelled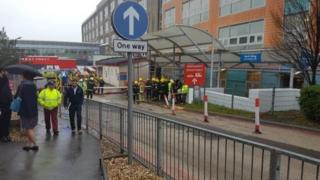 Ninety-nine patients had routine operations cancelled due a power cut at two hospitals.
Power was lost at Southampton General and Princess Anne hospitals on Wednesday when a faulty high-voltage underground cable caused a transformer to overheat.
The outage lasted seven hours, during which time 26 ambulances had to be diverted to other hospitals.
A large number of outpatient appointments were also cancelled.
Emergency admissions and surgery at the two hospitals have now returned to normal.
A spokesman for University Hospital Southampton NHS Foundation Trust said: "Some clinics did go ahead, so we are currently reviewing how many patients were seen and those who weren't so we can rebook them as quickly as possible.
"We will now complete a full investigation and, as part of this, have had specialist contractors on site to access the cable so we can inspect it.
"Patients remained safe and cared for appropriately throughout the duration of the power failure and we were able to return to normal activity the following day."
'Extra pressure'
Fire crews dealt with a "small fire" which was confined to an electrical cupboard.
During the power loss, A&E was closed to all but "urgent" cases with ambulances diverted to the Royal Hampshire County Hospital in Winchester and the North Hampshire Hospital, Basingstoke.
Hampshire Hospitals NHS Foundation Trust said 13 non-urgent operations were cancelled in Winchester on Wednesday and all of Thursday's elective orthopaedic operations had been cancelled "as a result of the extra pressure".
No operations were postponed at the Basingstoke hospital.
Portsmouth Hospitals NHS Trust said it cared for 15 patients who were diverted from Southampton to the Queen Alexandra Hospital, but no operations were cancelled there as a result.