Hythe ferry county council funding cut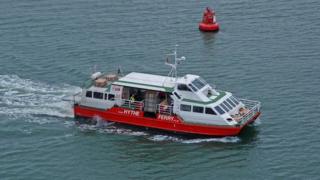 A ferry service which was saved following a high-profile public campaign has lost its council funding.
Hythe Ferry, which crosses Southampton Water, has been operated by Blue Funnel since April 2017 and has received more than £150,000 over the past two years.
Hampshire County Council has decided not to continue funding the service when the current agreement expires in March next year.
Blue Funnel said it was "a concern", but would not stop the ferry running.
Since the company took it over, it had spent most of the money on repairing and upgrading the vessel, director Lee Rayment said.
He said he now believed no extra "costly" work was needed, and the ferry service could be self-sustaining, if managed properly.
"It is without doubt a concern," Mr Rayment told the Local Democracy Reporting Service.
"However, the whole business was in such a state when I took over, that the funding has assisted me get the ferry back to a stable and safe position.
"There is no doubt that I will fight on in order to keep the operation going."
Charitable status
Councillor Rob Humby, Hampshire County Council transport chief, said the authority had continued to support the ferry service to help the new operator become established and attract enough customers.
He added: "We will continue to provide £3,000 to meet the annual harbour dues at Southampton and will, of course, consider any future requests for one-off funding on their merits and in light of funding available."
Hythe ferry went through months of uncertainty in 2016 after the former owners warned of possible job losses and declining passenger numbers.
Blue Funnel bought the 19th Century pier and ferry after more than 9,000 people signed a petition to save them.
Hythe Pier Heritage Association has now been given charitable status, making it eligible to obtain funding in other ways.
Television historian Dan Snow supported the campaign to save the ferry and pier, describing them as "the oldest running pier train anywhere in the world" and "national treasures".