Appeal delay fear over Romsey brewery housing 'saga'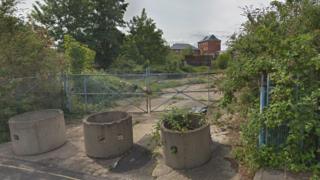 A further delay to a long-awaited housing development could result in "Groundhog Day", a council has said.
Stanborough Developments Ltd has built just 13 homes in 12 years on the Romsey brewery site in Hampshire, after winning planning permission in 2006.
An legal error by the firm means it has withdrawn an appeal to remove affordable housing from the scheme, Test Valley Borough Council said.
The council's planning chairman said the appeal process may now begin again.
'Groundhog Day'
Councillor Nick Adams-King said he was "frustrated" at the continuing lack of progress on the town centre site, which is earmarked for 211 homes.
"They could potentially come back and just start over again - and we have Groundhog Day," he said.
Romsey and Southampton North MP Caroline Nokes said progress on the scheme had been "glacial".
The Conservative MP said: "Sadly this has become a very drawn-out saga, where every time we think the developers are finally going to deliver the goods, they find another reason not to."
Stanborough Developments applied to the government in 2017 to be allowed to build a quota of "discounted market sale starter homes" on the site instead of 39 affordable homes.
It said the development would otherwise be "unviable".
Consultants hired by the council said the change would "give rise to a double increase in profit for the applicant".
At a hearing on Wednesday, the Poole-based developer promised to withdraw its appeal because it had applied to vary the wrong clause, the council said.
Councillor Adams-King said the 3.45 hectare (8.5 acre) site, formerly occupied by Strongs brewery, was an "eyesore".
He said the development delays had hampered delivery of the council's annual quota of new homes.
Stanborough Developments Ltd has been approached for comment, although an employee said the directors did not usually respond to media questions about the scheme.