Pensioner died in 'pressured' Queen Alexandra Hospital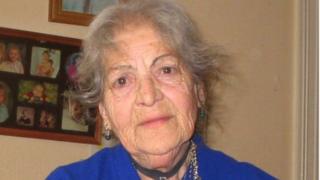 A pensioner died after waiting more than four hours in an ambulance outside an "extremely pressured" hospital, an inquest has heard.
Josephine Smalley, 88, also spent several hours on a trolley in a corridor at Queen Alexandra Hospital, Portsmouth, on New Year's Eve in 2017.
But a coroner said her care had been "no different and in some respects better" than in normal circumstances.
He concluded the death did not arise from neglect, but from natural causes.
Mrs Smalley, from Southsea, spent four and a quarter hours in the parked ambulance before being admitted at about 06:00 GMT, the inquest in Portsmouth heard.
At the time 13 ambulances were queuing outside, South Central Ambulance Service said.
Consultant Sophie Gough said Mrs Smalley suffered a heart attack in the afternoon while still waiting for a medical bed, but had shown no related symptoms before then.
'Less deserving'
During the afternoon, the hospital declared a "black alert" for overcrowding, the highest level of emergency.
Mrs Smalley, who smoked 60 cigarettes a day, died from the heart attack at 01:45 the following morning.
Her daughter, Lesley Bryant, claimed the hospital "neglected" her mother.
"She was old, she was a smoker and they thought she was less deserving," she said.
Ms Gough said that was "absolutely, fundamentally untrue".
Recording his verdict, coroner David Horsley said hospital staff had been "dealing with an almost impossible situation".
He said delayed admission and diagnosis did not amount to "neglect contributing to her death from the consequences of long-standing disease".
Ms Gough said the hospital had since made a "seismic change" in winter planning.
She said: "I have worked there for more than 10 years and this is the first year that I can say that the plan is robust."
Portsmouth Hospitals NHS Trust said: "The delay Mrs Smalley experienced is unacceptable and we are extremely sorry."