Stolen car in Southampton police pursuit hit worker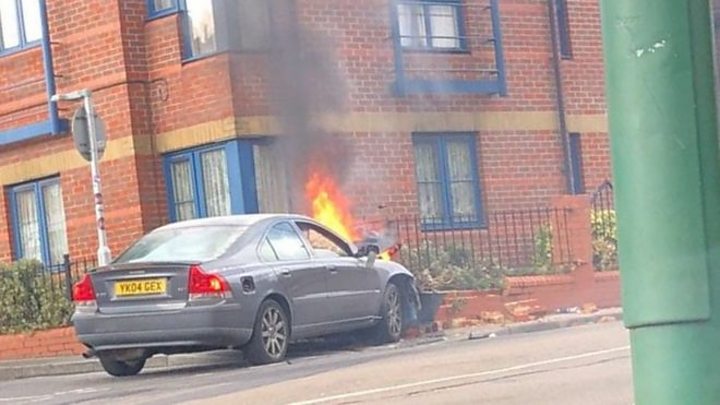 A driver who hit a workman, catapulting him over a wall, while fleeing police has been jailed for three years.
The stolen Volvo S60 hit Tom Carey, 27, as well as two other cars and a wall in Bevois Hill, Southampton, before bursting into flames on 27 March.
Mr Carey, a surveyor, spent 12 days in hospital with broken bones and a torn liver, Southampton Crown Court heard.
Gentjan Lalaj, 21, of London, was convicted in November of causing serious injury by dangerous driving.
At his trial, Albanian national Lalaj claimed he was subject to a blood feud, a tradition where descendants were killed in revenge for murders committed by their ancestors.
He told the jury he thought the unmarked police car behind him contained Albanians involved in the feud.
Police abandoned the pursuit as the Volvo overtook cars, reaching a speed of 60mph in a 30mph zone, the court heard.
Lalaj was previously found not guilty of two counts of possessing Class A drugs with intent to supply.
It was alleged heroin and cocaine had been in the petrol cap of the car and were ejected when Lalaj pressed the release cap button.
In a victim impact statement, Mr Carey, from Rochester, Kent, said he had suffered night terrors and ongoing pain, after injuries to his knee, shoulder, collarbone, liver and nose.
Mr Carey, who was marking a pavement when he was hit, had been left unable to work, the court heard.
'Life-long injuries'
Passing sentence, Judge Nicholas Rowland said the jury had rightly rejected Lalaj's defence of duress of circumstances.
"You were trying to outrun the police because you were driving a stolen vehicle," he said.
"The police were trying to stop you but they had to give up because you were driving so dangerously."
He imposed a six-and-a-half-year driving ban on Lalaj, of Hazelwood Lane, Palmers Green, who previously pleaded guilty to driving with no licence or insurance.
After the hearing, Mr Carey said Lalaj had left him with "life-long injuries" and the sentence was "a lot less than I've got".