Further man charged over Farnborough Airport cocaine seizure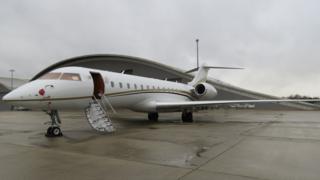 A man has been arrested and charged, a year after cocaine with an estimated street value of £41m was seized from a private jet in Hampshire.
The cocaine was found in 15 suitcases at Farnborough Airport in January 2018 on a plane returning from Colombia.
The National Crime Agency (NCA) said the 36-year-old Spanish man, detained in Bournemouth, had been charged "in connection with the investigation".
He is due to appear before Woolwich Crown Court on 4 February.
The NCA said the man, who had been living in the seaside resort, was arrested on Wednesday - the agency has not revealed what he has been charged with.
In August four men were convicted of smuggling half a tonne of cocaine into the UK on the private jet.
Alessandro Iembo, Martin Neil and Victor Franco-Lorenzo were jailed for 24 years each while Jose Ramon Miguelez-Botas was jailed for 20 years.