Southampton council care home u-turn after protests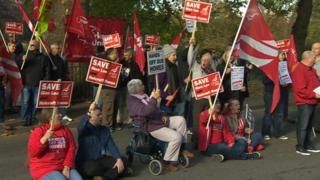 A care home at the centre of protests from staff and residents over its proposed closure, is set to for a reprieve.
Southampton City Council had planned to shut Glen Lee in Bitterne and Holcroft House in Thornhill.
However a new plan would see Holcroft House maintained with Glen Lee residents offered the chance to move in.
Campaigner Debbie Edmonds said it was a "win-win situation".
About 75 elderly people, many with dementia, live in the two homes which are the last remaining authority-owned care homes in the city.
In its budget proposals last year, the Labour-run council said it was reflecting a "shift away" from people using care homes, instead opting to receive care in their own homes.
It said £1.3m would be saved.
Unite the Union claimed 80 jobs would be axed and threatened strike action.
However the council said a "new way forward" had been found after a public consultation which would save £913,000.
It said the age and condition of Glen Lee and its lower occupancy rates meant keeping it open was not viable, but residents could move to Holcroft house and would "continue to receive care and support from council staff in the way they do now".
"Retaining Holcroft House will ensure that the council still has a stake in the residential care market and can keep providing quality services to those who needs them," it said in a statement.
Mrs Edmonds, whose mother Gill lives at Holcroft House said she was "absolutely amazed" by the decision.
"The residents just love it - it's their home. We wanted to raise awareness that not everyone can be care for in their own homes," she said.
The proposals are due to go before a cabinet meeting for final approval on 19 February.