Lucy McHugh, 13, 'murdered after pregnancy claim'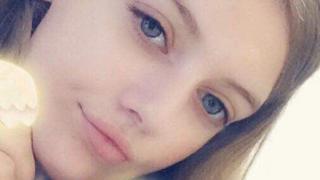 A man stabbed to death a 13-year-old girl who he had been abusing for more than a year after she told him she was pregnant with his child, a court heard.
Lucy McHugh's body was found in woodland at Southampton Sports Centre on 26 July.
Winchester Crown Court heard she had been "repeatedly stabbed" during a "vicious murder".
Prosecutors said care worker Stephen Nicholson, 25, who denies murder, had an "interest in underage sex".
The defendant also denies two charges of sexual activity with Lucy when she was 13 and raping her three times when she was 12.
William Mousley QC said Lucy was killed on the morning of 25 July and her body was found the next day by a dog walker.
"She was repeatedly stabbed in the neck and upper body and she bled to death as a result," he told jurors.
"Her killer then left her either dying or dead in a hidden area of that woodland."
Mr Mousley said Mr Nicholson had told police after his arrest that Lucy sent him a Facebook message the night before her death saying she was pregnant.
'Big argument'
Mr Mousley said Lucy's family had been aware of arguments between her and Mr Nicholson, who had been living with the family as a lodger.
"They saw the cause of that tension to be Lucy's behaviour... acting as if she had a crush on him and his resistance to her attention."
He added: "However, it emerged, as the investigation continued, that there was another possible cause of the tension which was kept a secret from her immediate family and the authorities.
"That concerned a sexual relationship which began in May 2017 and continued for more than a year between a 23 or 24-year-old man and a 12 to 13-year-old girl."
A few days before Lucy's death, Mr Nicholson told a friend she was trying to get him thrown out of the family home in Mansel Road East, jurors heard.
The prosecutor said the pair had a "big argument", in which Lucy shouted at the defendant: "This is all your fault" and "I've got a hold on you anyway".
After Mr Nicholson left, Lucy told her mother's partner, Richard Elmes, she had something to tell the two of them but by the time her mother, Stacey White, came home, Lucy had gone to bed.
On the evening of 24 July, Lucy created a second Facebook account and used it to communicate with Mr Nicholson that night and on the morning of her death, jurors were told.
She left her home at about 09:00 BST on the 25 July and the jury was shown CCTV footage of her walking to the sports centre, where her body was later found.
The jury was told no murder weapon had ever been recovered although pieces of knife handle were found at the scene.
Lucy was stabbed 11 times through her clothing when she was "at a very low level" but had not been sexually assaulted, Mr Mousley said.
The jury was shown CCTV images and mobile phone data which showed Mr Nicholson visited the sports centre on 25 July.
Later that day, the defendant burnt his trainers in a bonfire at his mother's house, it was claimed.
'I will do what you say'
Police recovered diary notes written by Lucy detailing her relationship with the defendant, the court heard.
In May 2017, she wrote: "Last night was amazing... Mr Nicholson took my virginity."
Mr Mousley said she later wrote a letter to Mr Nicholson which read: "Come into my room... This time I will do what you say because... I hate when you're angry."
The jury heard the defendant refused to give police his Facebook password which he changed a few hours before his arrest on 28 July and messages between him and Lucy were apparently deleted before police gained access to the account.
In August 2018, police found bloodstained clothing near Tanner's Brook, a mile from where Lucy died, the court heard.
Some was partly burnt and carried DNA "highly likely" matching Lucy and Mr Nicholson. Mobile phone data also showed the defendant near the brook on the day of the murder, prosecutors said.
Mr Nicholson also denies sexual activity with a 14-year-old girl in 2012.
After his arrest, a woman approached police to say he had taken her to the same wooded area for sex when she was 14, the court was told.
The trial, which is expected to last up to six weeks, continues.