Cowes ferry yacht-crash captain 'lost control in fog'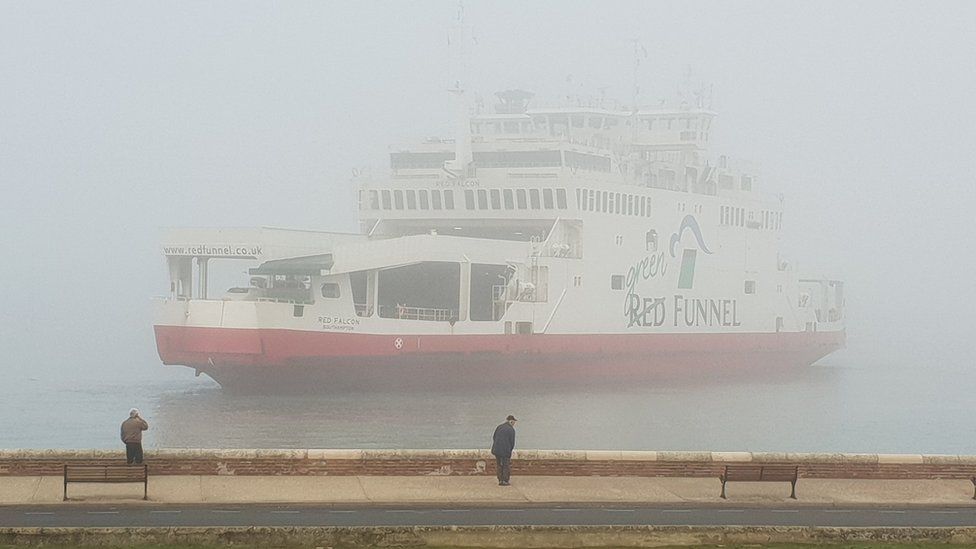 A ferry captain became disoriented in dense fog and ended up going in the wrong direction and crashing into a yacht, a report has concluded.
Investigators found Red Falcon's captain became "overloaded due to high stress" as he tried to regain control.
Mr Minchin said he has received an undisclosed settlement.
The sailor said he had used his Contessa 32 yacht, called Greylag, for 40 years and estimated a like-for-like bespoke replacement would cost up to £200,000, although the insurance value was considerably less.
At the time he said the incident was "obviously a big embarrassment" for the ferry firm but he was happy with the way it had dealt with the situation since.
The Marine Accident Investigation Branch (MAIB) report said the captain struggled in severely reduced visibility while trying to berth at Cowes Harbour. The vessel swung out of control, left the navigable channel and was spun around through 220 degrees.
It found he became "fixated" on information on his electronic chart, ignored information on other equipment and became "cognitively overloaded due to high stress".
The bridge team became disengaged from the operation due to a lack of clear communications and emergency scenario training, investigators concluded.
Red Funnel has been recommended to conduct regular assessment of ship-handling capabilities and to review how orientation is displayed on the ship's electronic charting system.
Andrew Moll, chief inspector of the MAIB, said: "Our investigation highlighted how quickly restricted visibility can negatively affect individuals' awareness and orientation, which increases their stress and impacts on decision making.
"It was very fortunate that nobody was on board yacht Greylag when it was struck and overrun by Red Falcon.
"In this respect, the family on a yacht on a nearby swinging mooring had a lucky escape."
Fran Collins, CEO of Red Funnel said: "...immediately following the incident [we] implemented measures to ensure that we maintain the highest standards possible.
"This included expanding emergency and bridge management training both on board and in a simulator, as well as reviewing our navigational procedures with a specific focus on navigation in restricted visibility.
"We are reviewing the further recommendations outlined in the MAIB's final report."
The dangers to people sleeping on yachts in Cowes Harbour had also not been sufficiently mitigated within risk assessments, the investigation found.
The Cowes Harbour Commission and the Cowes Yacht Haven have been recommended to review their risk assessments for collisions between commercial vessels and yachts moored at their marinas.
Related Internet Links
The BBC is not responsible for the content of external sites.