Coronavirus: HMS Queen Elizabeth's 800 crew tested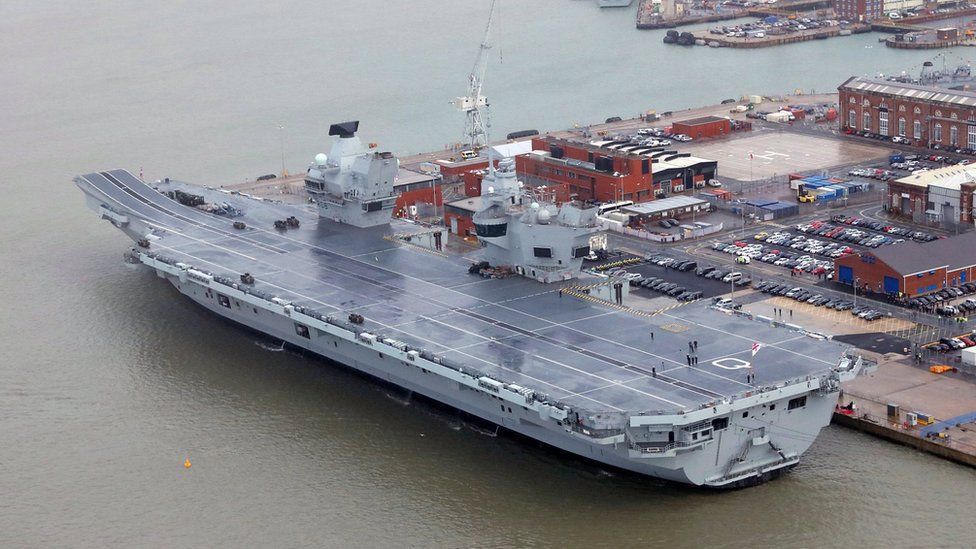 Aircraft carrier HMS Queen Elizabeth has left Portsmouth after more than 800 sailors were tested for coronavirus.
A planned sailing on Tuesday for sea training was postponed and the carrier remained docked while the ship's company was tested.
The decision to test the crew came after a number of outbreaks of the virus on board US and French warships.
The Royal Navy has not said if any crew members tested positive for Covid-19, but said the tests were a precaution.
In a statement, the navy said the training exercises had been agreed by senior defence leaders.
"While many Royal Navy and Royal Marine personnel from the regular and reserve forces remain ashore supporting the current national fight against Covid-19, the ship's company of HMS Queen Elizabeth are focused on ensuring that UK Defence remains prepared for future global threats," it said.
The navy said as a "further precaution" the carrier would "conduct a period of isolation at sea" before training started.
"She will be operating in waters close to the UK coast and the Commanding Officer has the discretion to cease the training if it is deemed necessary," the statement added.
"This is the right and sensible thing to do to ensure the Navy can continue to deliver on operations now and in the future," he said.
Related Internet Links
The BBC is not responsible for the content of external sites.