Florence Nightingale window installed in Romsey Abbey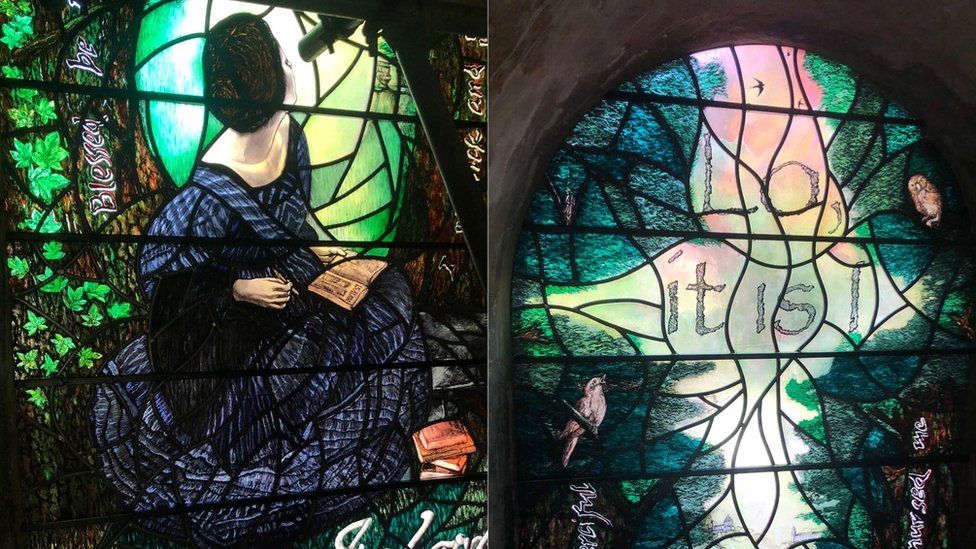 A new stained glass window to mark the bicentenary of Florence Nightingale's birth has been installed at Romsey Abbey in Hampshire.
Created by artist Sophie Hacker, 'The Calling Window' shows the moment when, aged 16, Florence Nightingale said she was called by God.
A service planned in May to dedicate the window on what would have been her 200th birthday had to be postponed due to the coronavirus pandemic.
It will now take place on 16 May 2021.
Florence Nightingale is regarded as the founder of modern nursing after coming to prominence during the Crimean War when she became known as "the lady with the lamp".
The window in St George's Chapel shows her seated on a stone bench in the grounds of Embley Park, her family home.
The new piece, which was funded by donors, took two days to install.
Ms Hacker said: "I've been holding my breath for a very long time so it's great that it's finally in.
"People might be surprised that I haven't shown Florence Nightingale as a nurse and there's no lamp.
"This is a historical moment in her life, just as she approached her 16th birthday, and she heard God call her to his service."
Related Internet Links
The BBC is not responsible for the content of external sites.