Spanish Armada maps 'saved for the nation'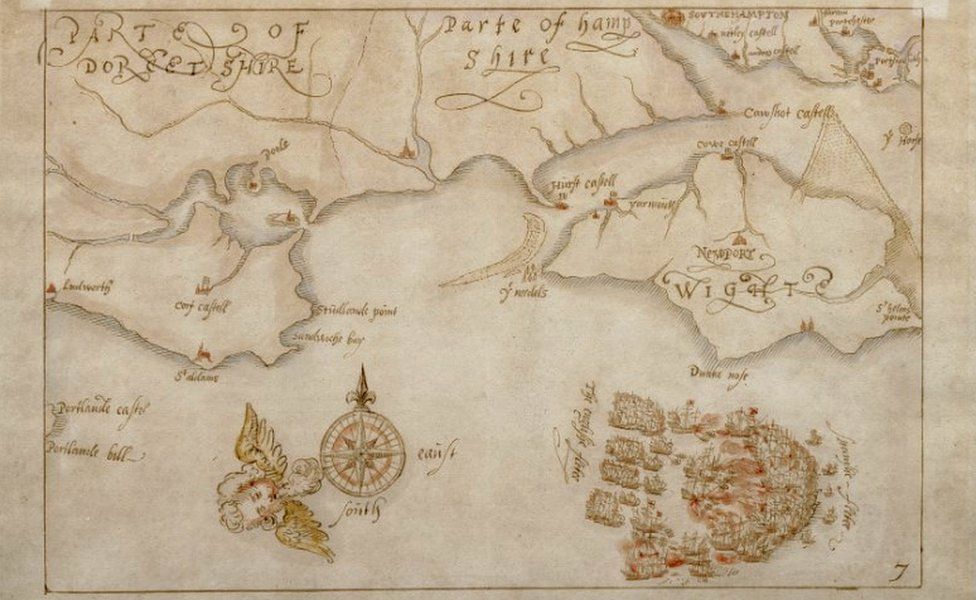 Hand-drawn, Elizabethan-era maps depicting the Spanish Armada have been saved for the nation after £600,000 was raised to buy them.
The 10 maps, believed to have been drawn the year after the famous battle of 1588, were sold to an overseas buyer in July but an export ban was imposed.
The National Museum of the Royal Navy (NMRN) in Portsmouth raised the money in eight weeks.
It is now seeking further funds to put the maps on display for the first time.
It is believed the drawings, completed by an unknown draughtsman, possibly from the Netherlands, were based on a set of engravings from the same year by Elizabethan cartographer Robert Adams.
In the summer of 1588 the Spanish Armada set sail for England after decades of hostility between Spain's Catholic King Philip II and the Protestant Queen Elizabeth I.
It is regarded as one of the most significant naval battles in history, when the English fleet of 66 ships defeated the Armada, twice its size, by sailing fire ships into its formation off Calais.
The ink and watercolour maps were sold for £600,000, but culture minister Caroline Dinenage imposed an export ban until January and called for a museum or institution to raise funds to purchase them.
NMRN director general Prof Dominic Tweddle said members of the public had "dug deep in extremely difficult times".
The target was reached with the help of £212,800 from the National Heritage Memorial Fund and £200,000 from the Art Fund.
Ms Dinenage said: "The export bar system exists so we can keep nationally important works in the country and I am delighted that, thanks to the tireless work of the National Museum of the Royal Navy, the Armada maps will now go on display to educate and inspire future generations."
Related Internet Links
The BBC is not responsible for the content of external sites.