Lorries hit by bricks thrown on Southampton motorway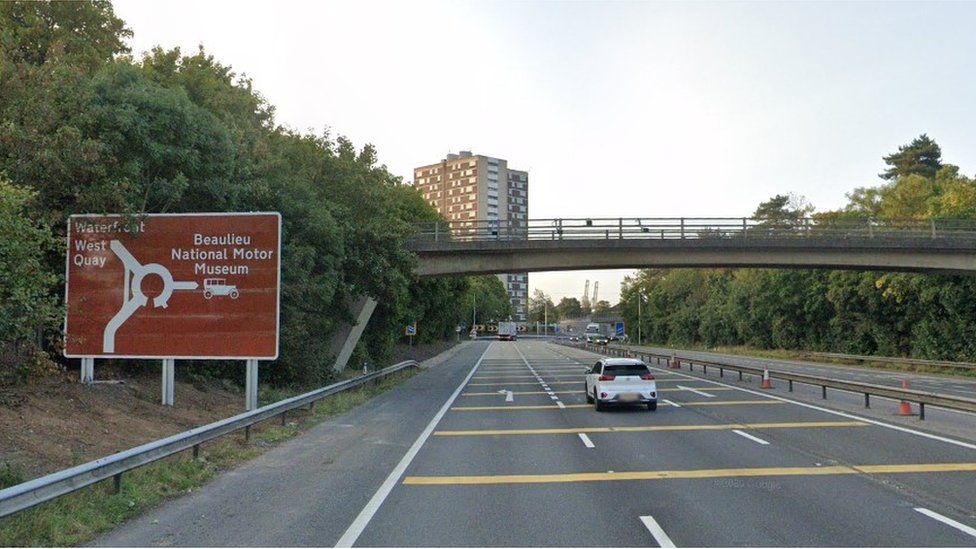 A lorry and vehicles on a car transporter have been damaged after bricks and stones were thrown from a disused footbridge over a motorway.
A number of drivers saw missiles being dropped on to the M271 near Southampton on Monday evening, narrowly missing their vehicles.
Police said witnesses reported three young people - two in dark clothing and one in a reflective jacket.
The bridge has been closed for several years to prevent such incidents.
In a Facebook post, Southampton city councillor for Redbridge, Lee Whitbread, said: "A gating order was issued by the council to close the bridge and install fencing to prevent access.
"It appears the fencing has been breached and youths have been able to access the bridge.
"This mindless behaviour could have killed somebody and those responsible need to be brought to book."
A Hampshire Constabulary spokeswoman said: "This kind of behaviour is incredibly dangerous to motorists and can not only cause damage, but could also result in serious injury or even death."
She urged anyone with information to get in touch with the force.
Mr Whitbread said the council had since agreed to carry out urgent repairs to prevent anyone else accessing the crossing.
Related Internet Links
The BBC is not responsible for the content of external sites.