Rusty M27 motorway sound barriers 'hideous'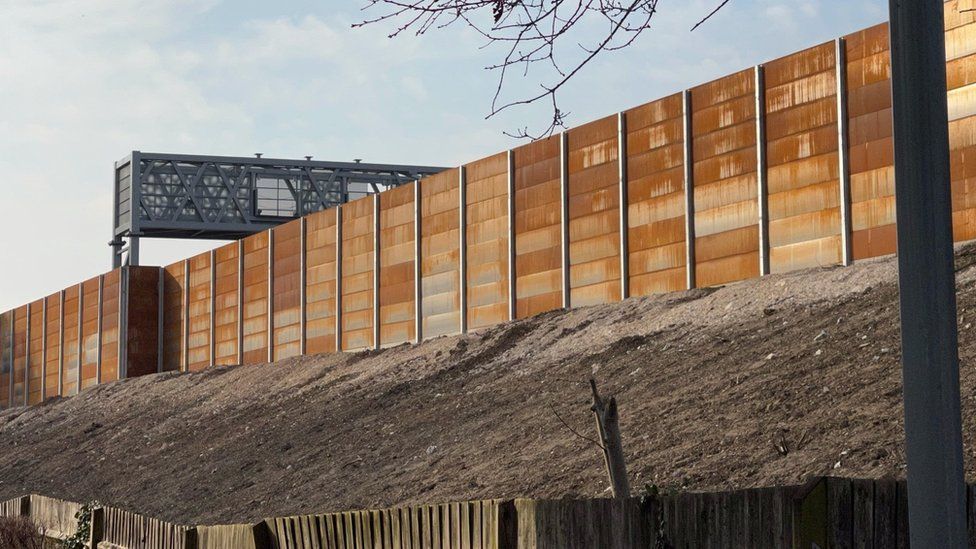 Sound reduction barriers installed as part of a smart motorway scheme have been branded "hideous" by a councillor.
The "weathering steel" wall, which is designed to rust, is being erected alongside the M27 at Fareham.
Hampshire county councillor Sean Woodward said he was "shocked" to see the appearance of the barriers and had complained to Highways England.
Highways England said it would consult with Mr Woodward and residents about ways to improve the wall.
In a Facebook post, Mr Woodward said he had complained "in the strongest terms", saying the weathering steel was inappropriate for the area.
He said: "I was shocked to see the hideous rusting steel sound attenuation barriers being placed along the M27 near Funtley and beyond this week.
"The steel is known as weathering steel that does not require painting. It should only be used in appropriate settings.
"I cannot believe that next to a residential area and countryside is in any way appropriate and would expect a much more tasteful wooden product accompanied by significant tree planting."
Many residents responding to the post agreed, describing the scheme as an "eyesore" and "a complete disgrace" but some defended it, saying its appearance would improve when it had weathered, as it is designed to do.
A Highways England spokeswoman said: "Living next to a busy road is never easy and we thank residents for bearing with us while we complete this vital upgrade of the M27, which includes the installation of noise barriers.
"The project team is currently looking at what steps can be put in place to improve the appearance of the noise barriers.
"We will consult with Mr Woodward on any potential solutions, and will also get feedback from residents before any work takes place."
Related Internet Links
The BBC is not responsible for the content of external sites.