Southampton Airport's runway extension decision delayed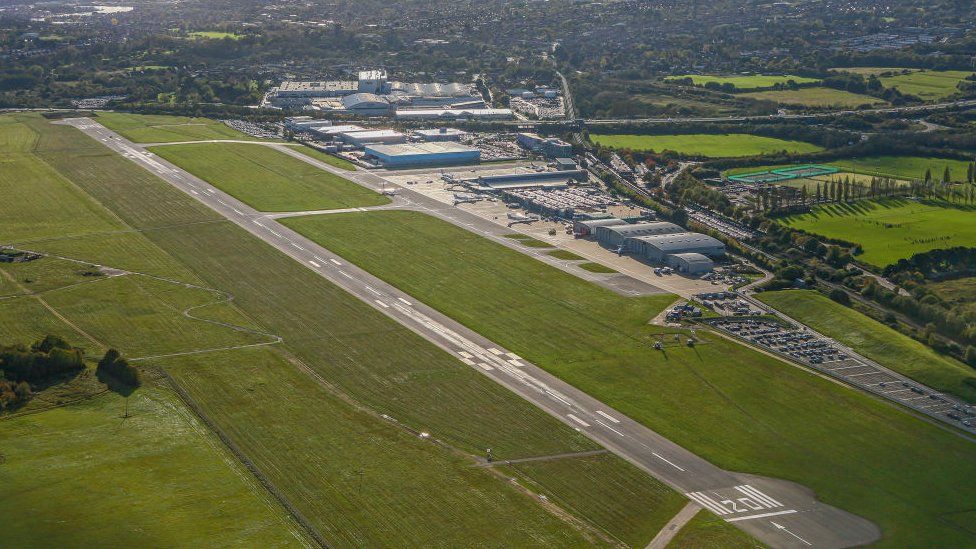 The decision on plans to lengthen Southampton Airport's runway has been delayed after a debate overran.
Airport bosses said it was "vital" for the site's future but campaigners and some local authorities have raised major objections.
The meeting had been expected to conclude at 18:00 GMT but the council has warned it could run into Friday.
Planning officers have recommended the local area committee for Eastleigh Borough Council approve the expansion plans, despite concerns over noise pollution.
The officers' report found that if the expansion went ahead, the number of people affected by airport noise would go up from 11,450 in 2020 to 46,050 in 2033.
But they also emphasised it would create more than 1,000 jobs and contribute to the local economy.
The plans include 600 extra parking spaces in the long-stay car park and a blast screen built to the north of the proposed runway extension.
Objectors included Southampton councillor John Savage, who said: "It is outrageous, our communities are being damaged by decisions you are making and it is going to affect the health of our people and it will last for generations."
Colden Common and Twyford councillor Susan Cook urged the local authority to shelve the plans for the next five years, saying: "It is madness to assess the extension of this runway when the aviation sector is in crisis. The world has changed since these proposals were made."
But Keith House, leader of Eastleigh Borough Council, urged members to support the recommendation and said: "Tackling climate change matters - it matters immensely - but we won't do that with a weak economy."
By Roger Harrabin BBC environment analyst
Southampton Airport is one of eight across England seeking to expand.
The advisory Climate Change Committee has told ministers that emissions from aircraft must not be allowed to grow overall.
That means if capacity is increased at one airport then it should contract at another - and no-one appears to be volunteering for that.
The committee says an exception could be made if planes become much more fuel-efficient, or start flying on low-carbon fuels from plants or waste - but these will not be available at scale for some time.
The government is yet to decide whether it will follow this advice, although aviation will form part of its transport decarbonisation plan due out after Easter.
Aviation is currently in a privileged position - but ministers are under pressure from environmentalists to force the industry to adopt similar emissions cuts to other sectors of the economy.
Campaigners have been objecting to the expansion since it was officially proposed in 2019 and there have since been four public consultations.
Local authorities, including Southampton and Winchester city councils, Test Valley Borough Council, four parish councils, as well as Bournemouth Airport, Southern Gas Networks and Dorset Local Enterprise Partnership, all objected to the plans on the grounds of noise and climate change.
Airport operations director, Steve Szalay, previously said noise complaints had been taken into account and promised money for noise insulation, adding: "It is important to view all factors together - you can't just focus on a single factor, such as noise."
In an open letter to the council, Solent Local Enterprise Partnership backed the extension plans, saying a decision to refuse the application would be "disastrous for the local economy".
Related Internet Links
The BBC is not responsible for the content of external sites.