Southampton Bargate lions restored after 278 years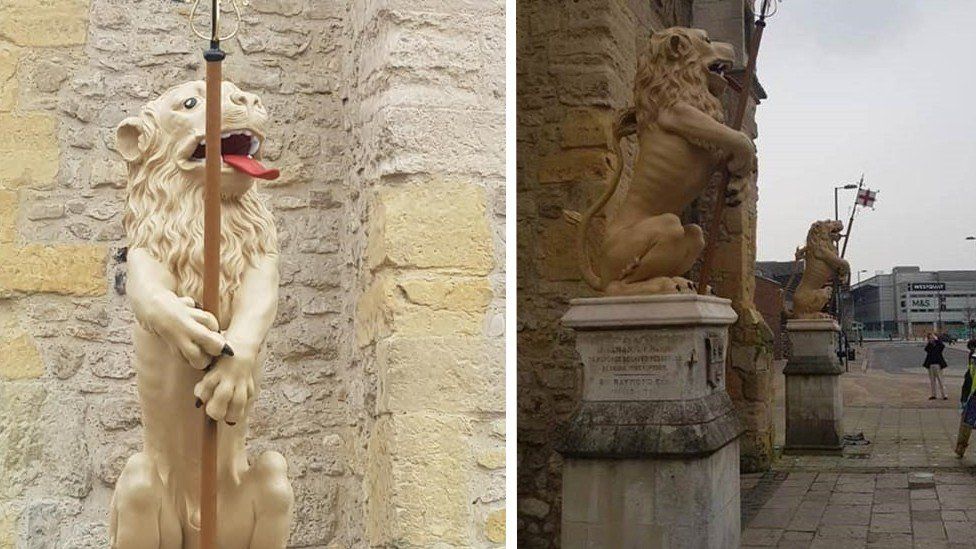 Two iron lions which have stood guard outside the ancient walled entrance to Southampton for 278 years have been returned to their plinths restored.
They are understood to represent the legend of Sir Bevois who is said to have founded the city.
The statues have been restored to how they looked in 1743, Southampton City Council said.
The council said "detailed forensic" work revealed the original colour scheme of the lions was "much more life-like".
Conservator Rupert Harris, who carried out the work, said it was the "fashion" in the mid-18th Century to "paint statues as if they were alive, and the Bargate lions were no exception".
"After they had been made by sculptor John Cheere they had buff-coloured bodies, dark pink mouths and tongues, off-white teeth, and black claws. The metal flag poles they carried were painted dark brown to look like wood," he said.
Research in the City Archives, by monuments and memorials officer Jo Bailey, revealed the lions had been painted, repaired and cleaned a number of times over the centuries.
Ms Bailey said in the late-19th Century the statues were painted dark green before being painting black around 1900.
A picture in the office of city archaeologist Dr Andy Russel from about 1852 also showed the lions painted "lion colour".
Carolyn Abel, head of culture and tourism at the city council, said: "We are sure that today's visitors and residents will enjoy the stunning new lions standing guard at the symbolic entrance to old Southampton, just as they looked when visitors such as Jane Austen and Queen Victoria passed through the historic Bargate".
The medieval chronicles of mythical Sir Bevois were told by minstrels and storytellers across Russia and Europe.
They tell of his adventures and heroic deeds accompanied by his giant page and squire, Ascupart, armed with a magic sword, Mortglay, and a magical horse, Hirondelle.
They include him being sold to slave merchants by his mother, ending up in the court of the king of Armenia and falling in love with a Muslim princess, Josian.
Sir Bevois is said to have slain two lions while protecting the princess, commemorated in the Bargate statues.
He reputedly returned to England to reclaim his father's land where he founded Southampton.
The Bevois Valley area of the city takes its name from the legend, and a 10m (32ft) sculpture of his sword can be found at the southern end of Thomas Lewis Way.
Related Internet Links
The BBC is not responsible for the content of external sites.