Covid: New Milton school fits air monitors to reduce virus spread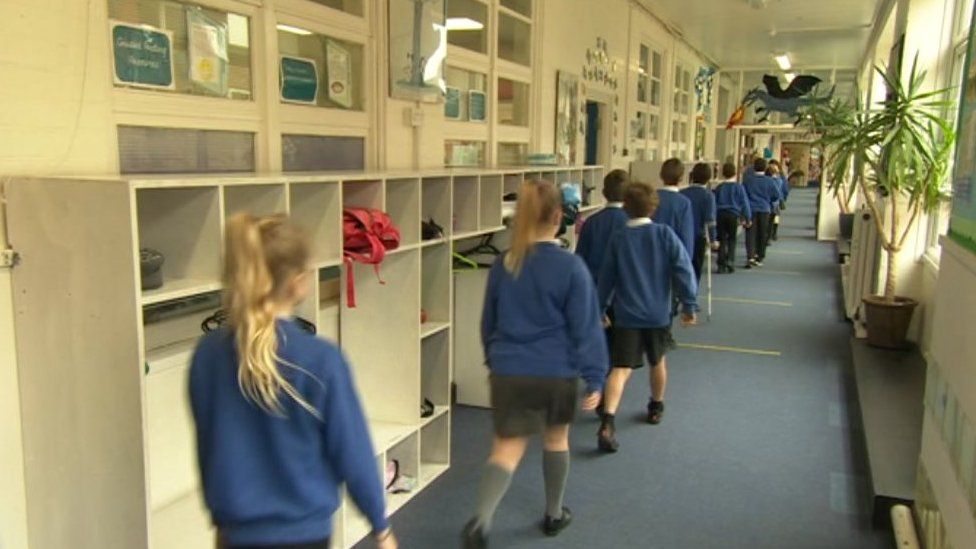 A school is aiming to reduce Covid transmissions by installing carbon dioxide monitors so classrooms can be evacuated if air quality deteriorates.
Teachers at Ashley Junior School in New Milton, Hampshire, also open windows when the devices' alarms sound.
Head teacher Ian Rix said: "There is some disruption but we think it's worth it for that assurance that we're as safe as we can possibly be."
The devices have been recommended by patient support group Long Covid Kids.
This is because if someone is infected they will release tiny virus particles called aerosols, which can accumulate and then be inhaled by others.
One of Ashley Junior's pupils, eight-year-old Samuel, has been suffering with long-term symptoms triggered by Covid and said he welcomed his school's decision.
His mother, Hannah, said: "There's been lots and lots of emphasis on ventilation levels in schools but a lot of people are just opening windows and hoping for the best.
"How can we measure adequate ventilation levels if we don't actually know what's happening in those classrooms?"
Sammie Mcfarland, founder of Long Covid Kids, said she would like other schools to also fit the monitors.
"We just really want people to understand that if you're breathing somebody else's stale air you could be breathing the virus," she added.
Related Internet Links
The BBC is not responsible for the content of external sites.