McDonald's: 14 arrested at protests outside depots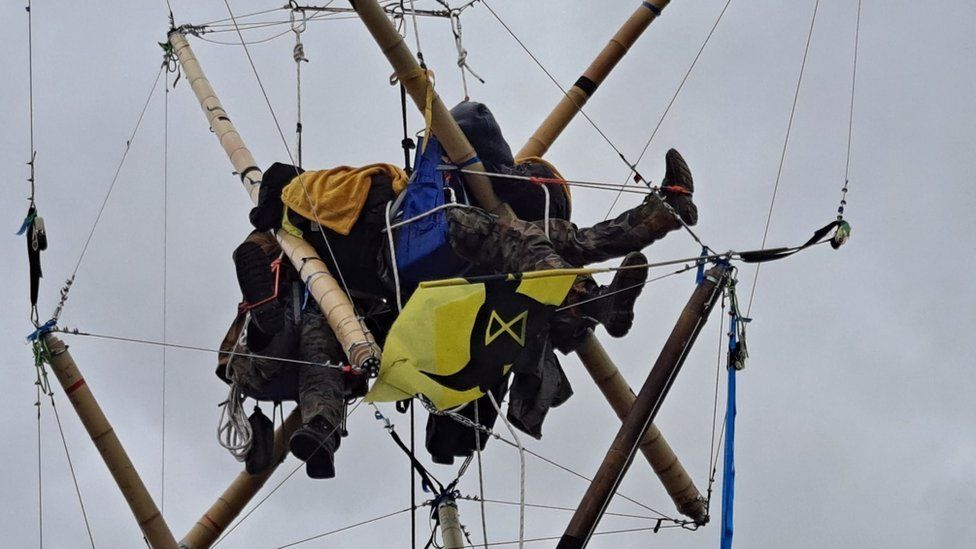 Fourteen people have been arrested during protests at McDonald's depots.
Eight people were arrested on suspicion of aggravated trespass over the protest in Basingstoke, Hampshire Police said.
Six others were arrested on suspicion of aggravated trespass, criminal damage and intimidating behaviour in Hemel Hempstead, Hertfordshire.
Protesters formed blockades by attaching themselves to bamboo structures, stopping vehicles from passing through.
Referring to the incident at the Basingstoke industrial estate off Houndmills Road, Ch Insp Matt Reeves said: "Everyone has the right to free speech and protest, however, officers will take necessary action against the few who deliberately choose to act outside the law."
West Midlands Police said protesters at the distribution centre in the Canley area of Coventry left on Sunday morning and no arrests were made.
"Officers were present at the protest to engage with both the private businesses involved and ensure activists were carrying out their protest peacefully," a spokeswoman said.
Similarly, there were no arrests made by Greater Manchester Police.
A McDonald's UK spokesperson said: "Our distribution centres have reopened and are now back to delivering to our restaurants."
On Saturday it apologised to its customers "for any disappointment caused".
Animal Rebellion spokesman James Ozden said about 100 people took part in the protests.
He said the action had disrupted about 1,900 lorries.
"We've also got a report from someone in Manchester that they experienced limited McDonald's breakfast items due to the protest," he added.
Animal Rebellion said it was protesting to "bring an end to the misery of fast food as it creates obesity, destroys the Amazon and warms up the planet".
It wants McDonald's to commit to becoming fully plant-based by 2025.
It describes itself as a mass movement that uses nonviolent civil disobedience "to bring about a transition to a just and sustainable plant-based food system".
Hampshire Constabulary released further details on those arrested in Basingstoke, all of whom remain in custody:
A 25-year-old woman of no fixed abode
A 51-year-old woman from Malvern in Worcestershire
A 21-year-old woman from Bristol
A 32-year-old woman from London
A 21-year-old man of no fixed abode
A 24-year-old woman from Beckenham in Kent
An 18-year-old woman of no fixed abode
A 31-year-old woman of no fixed abode