HMS Queen Elizabeth: Crowds gather to wave off Royal Navy flagship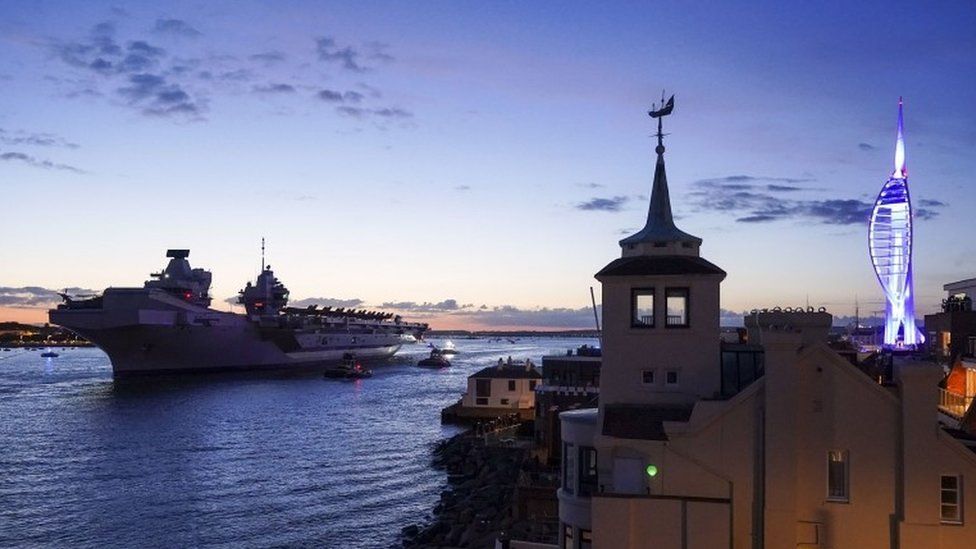 Hundreds of people lined the harbour walls in Portsmouth to wave off the Royal Navy's flagship as it set sail on its first operational deployment.
HMS Queen Elizabeth departed from Portsmouth Naval Base for a 28-week deployment, leading a fleet known as the Carrier Strike Group (CSG).
The Queen went onboard to wish the crew well before it headed off for the Indo-Pacific region.
The plan was for the CSG to gather in the Solent prior to departure but heavy winds led to the unscheduled stop at the naval base.
The ship began sea trials in 2017, having replaced HMS Illustrious which was scrapped in 2014.
It has eight RAF and 10 US Marine Corps F35B stealth fighter jets onboard and will be accompanied to Asia by six Royal Navy ships, a submarine, 14 naval helicopters and a company of Royal Marines.
Related Internet Links
The BBC is not responsible for the content of external sites.