Malakai Watts death: Mum Chelsea Cuthbertson jailed for manslaughter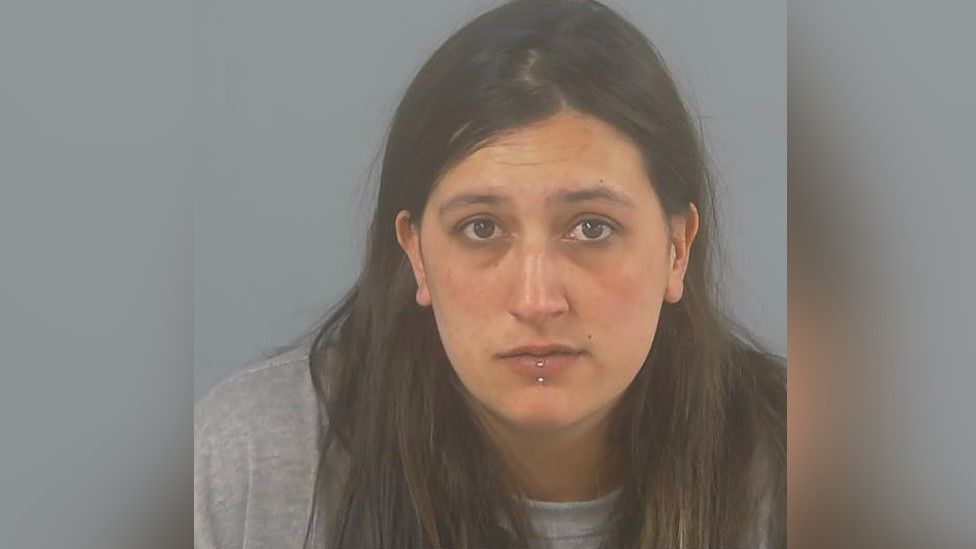 A mother who killed her one-month-old baby when she was "angry and stressed" over a row with her partner has been jailed.
Malakai Watts suffered a fatal head injury and died four days after being taken to hospital in February 2019.
Chelsea Cuthbertson, 28, was convicted of manslaughter, but cleared of murder, following a trial at Winchester Crown Court.
She was handed a nine-year jail sentence.
During the five-week trial, jurors were told a post-mortem examination found Malakai suffered a "traumatic head injury" and was subjected to "forceful, substantial shaking".
Cuthbertson was said to have smoked a cannabis joint to "calm herself down after losing her temper" on the morning of 2 February 2019.
The court heard she and her partner Del Watts had argued about their flat's heating being turned on.
In her evidence, she said she had been "distraught" after finding her baby unresponsive, had called 999 and carried out CPR until paramedics arrived.
Medical staff at Southampton General Hospital noticed signs of pressure inside Malakai's skull and of internal bleeding, raising the possibility of a "non-accidental injury".
The baby had eight rib fractures, with one found to have been sustained seven to12 days before his death, during "an earlier episode that is unaccounted for", the prosecution said.
Four of the fractures could have been caused during the CPR, the court heard.
Cuthbertson denied she had ever shaken or hurt her baby who had been born on Christmas Day 2018.
Passing sentence, judge Mr Justice Spencer told Cuthbertson she had "falsely and shamelessly" tried to blame her partner for causing the baby's injuries.
"Only you really knew what happened," he said.
"The uncomfortable truth is you were stressed by the row with your partner and took it out on Malakai.
"When you shook him and inflicted those injuries, you were taking out on this tiny baby your anger and annoyance with Del Watts," he added.
In a victim impact statement read out in court, Mr Watts said he had been "devastated" by his son's death.
Cuthbertson was ordered to spend at least six years in custody before being released on licence.
Related Internet Links
The BBC is not responsible for the content of external sites.