Isle of Wight school lesson from 1994 found on hidden blackboard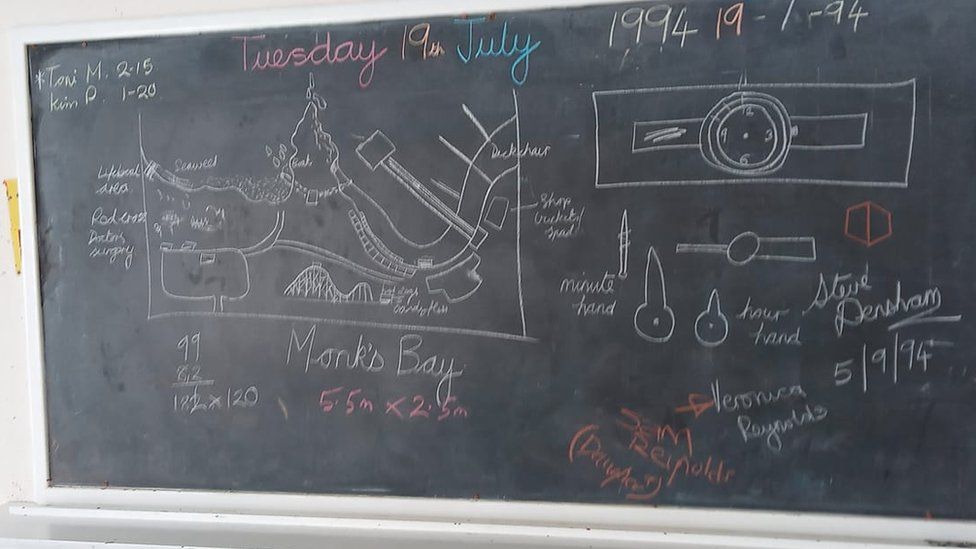 Chalk diagrams from a lesson in 1994 have been found on a blackboard at a disused school ahead of its demolition.
The discovery at All Saints' Primary School in Freshwater on the Isle of Wight was made when workmen stripped a whiteboard from a wall revealing the blackboard underneath it.
A diagram of Monk's Bay and a watch were found on the board, which also had the date 19 July 1994 chalked on it.
Freshwater and Totland Archive Group said the discovery was "wonderful".
The archive group set up a tour of the building last month.
Volunteer and former pupil Janet Haire said: "We came across this classroom with the blackboard there and we all wondered why on earth it was dated 19 July 1994."
She added: "It wasn't until recently when the school had been stripped of all its furnishings that the whiteboard had been taken off and thus revealing the blackboard with information that had been there for 27 years.
"It just wonderful to think that had been hidden away and undisturbed for all that time, and there it was as if it had been written that day."
An exhibition of documents and photographs from the school, from the late 1800s to 2020, will be on display at West Wight Heritage Centre until the end of August.
All Saints' Primary School was shut last year with its 48 pupils relocated to Yarmouth Primary School.
It is set to be demolished and replaced with a new £4.5m school by spring next year.
Related Internet Links
The BBC is not responsible for the content of external sites.