Gurkha back at Downing Street hunger strike after being taken ill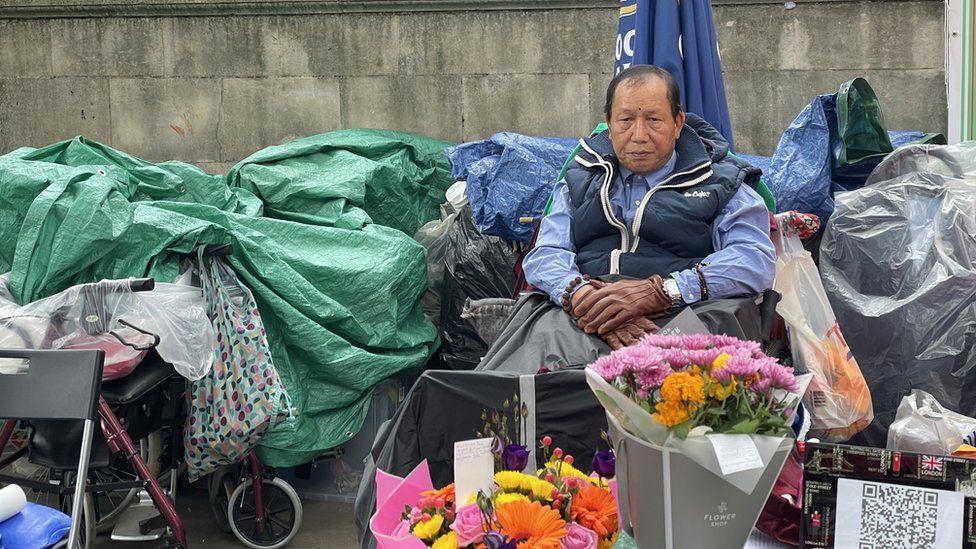 A Gurkha veteran who was taken ill during a hunger strike outside Downing Street has returned to the protest.
A spokesperson said Dhan Gurung has refused food for 12 days and was taken to hospital because his heart slowed.
The 60-year-old, from Basingstoke, Hampshire, is part of a group protesting unequal pensions with other British Army veterans.
More than 100 people have also gathered for a march through London in support of those on hunger strike.
Gurkhas who retired before 1997 receive a fraction of the pension British-born members of the army get.
Protest spokesperson, Yam Gurung, said it was initially believed diabetic Dhan Gurung was having a heart attack.
He has since left hospital and returned to Downing Street.
Mr Gurung has been protesting in a wheelchair alongside fellow ex-soldier Gyanraj Rai, 63, and Gurkha widow Pushpa Rana Ghale, 59, who travelled from Nepal.
The trio previously told the BBC the strike was a "last resort", but they were "prepared to die" if it meant they would be treated equally.
Gurkhas have served the British Army in two world wars and in the past 50 years in Hong Kong, Malaysia, Borneo, Cyprus, the Falklands, Kosovo, Iraq and Afghanistan.
Those who retired before 1997, like Mr Gurung, receive a fraction of the pension the rest of the British Army receive because the Gurkha Pension Scheme (GPS) was based on Indian Army rates.
Last week, Mr Gurung explained his pension in 1994 was £20 a month and said he and his family lived in poverty because of the British government's "penny pinching".
He said he was sacrificing his life to urge the government to "solve 207 years of historical injustice".
In a statement, the Ministry of Defence said: "We greatly value the huge contribution Gurkhas make to the British Army, and ensure they are supported with a generous pension and medical care during retirement in Nepal."
Related Internet Links
The BBC is not responsible for the content of external sites.