Isle of Wight rail line set to reopen after 10-month closure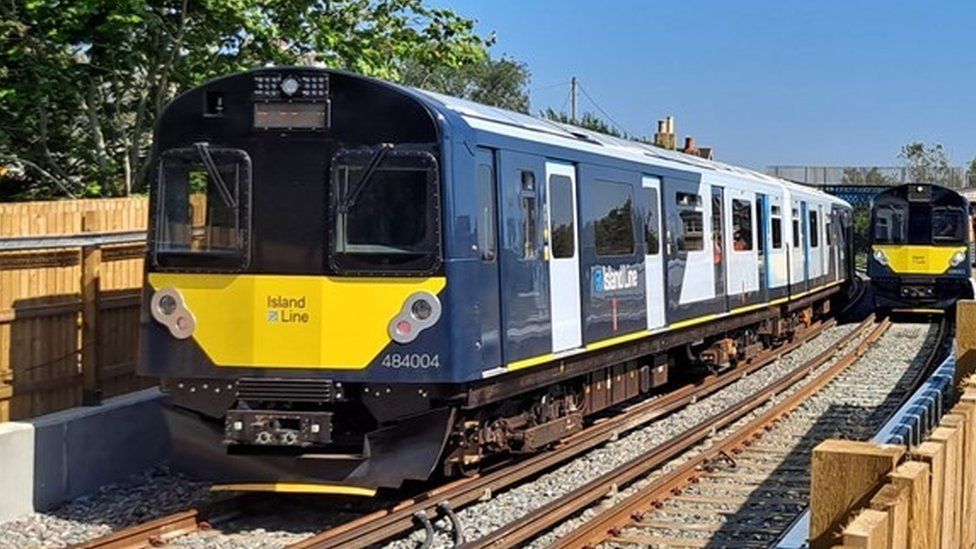 A railway line is expected to reopen 10 months after its closure for a £26m overhaul, following delays due to the pandemic and flash flooding.
The Isle of Wight's Island Line service closed on 4 January and had been expected to reopen in March.
Its trains have been replaced by London Underground trains, and tracks and platforms have been upgraded.
South Western Railway (SWR) said it would reopen on 1 November if its final train safety tests were successful.
Claire Mann, managing director of South Western Railway, said: "We are sorry that this project has taken longer to deliver than we first hoped, with a series of complications sadly delaying re-opening.
"However, we are confident that the transformed Island Line will be worth wait, and we are so excited to welcome locals and visitors back onboard."
It was put back further after recent flash floods in the summer washed away newly laid ballast from underneath sleepers, leaving electrical, signalling and points equipment damaged.
By Paul Clifton, BBC South transport correspondent
Presenting the reopening of the Island Line in November as a positive story is clever PR spin.
Here's the bottom line - a planned three-month closure will have stretched to ten months.
The primary reason is dodgy software on the refurbished Vivarail trains. It had to be rewritten.
But the pandemic and unexpected summer flood damage to freshly-laid ballast also played their part.
In the meantime, island people have become accustomed to not having their railway. They've found other ways to get around.
Winning them back won't be easy, because customer loyalty has been eroded.
Island MP Bob Seely said: "I know that delays have been frustrating to islanders, especially over the summer months.
"I am glad that we will now have a 30-minute rail service that will connect more efficiently with the ferry and with mainland connections."
Island Line railway operates between Ryde Pier Head and Shanklin, serving Smallbrook Junction, Brading, Sandown and Lake stations.
It transports about 1.5 million passengers in a normal year.
To include new passing loop at Brading to allow trains to run half-hourly to Ryde pier to connect with Portsmouth ferry services
Existing trains that date from 1938 to be replaced with five refurbished London Underground trains from the District Line
One of the trains, which has operated since the late 1980s, to be preserved at the Isle of Wight Steam Railway
Upgrades paid for by the Department for Transport, with £1m for the passing loop coming jointly from Isle of Wight Council and Solent Local Enterprise Partnership
Related Internet Links
The BBC is not responsible for the content of external sites.