HMS Queen Elizabeth returns to Portsmouth minus £100m fighter jet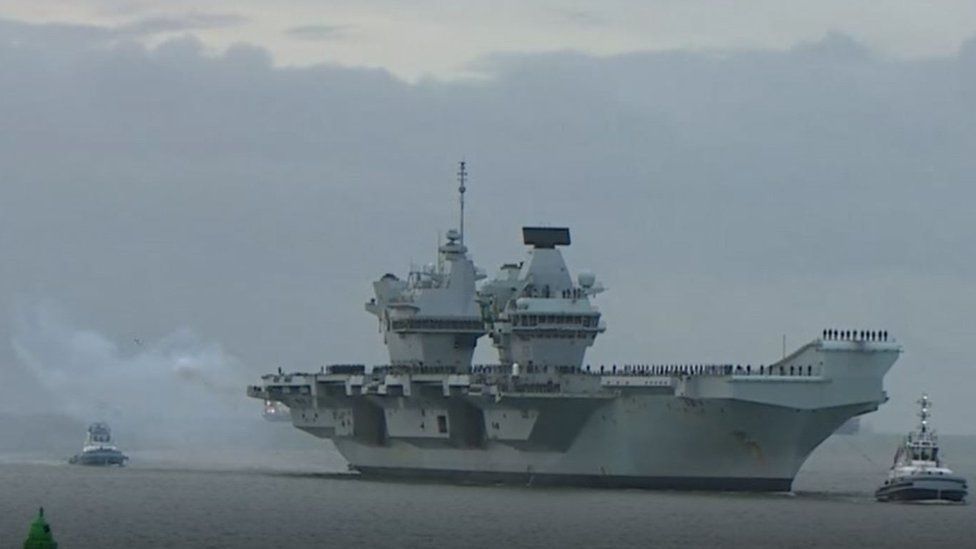 The Royal Navy aircraft carrier HMS Queen Elizabeth has returned from its maiden operational deployment.
The eventful deployment saw the loss of a £100 million fighter jet at sea, a stand-off with the Russian navy, and a Covid-19 outbreak.
HMS Defender and HMS Diamond also returned from the 26,000 mile round trip.
The crew were welcomed home in time for Christmas by family and friends lining the jetty at the naval base.
HMS Defender and HMS Diamond arrived earlier. HMS Queen Elizabeth approached the naval base at about 15:30 GMT.
The Queen went on board to wish the crew well before the fleet, known as the Carrier Strike Group (CSG), headed off for the Indo-Pacific region.
In November an F35B Lightning jet crashed into the Mediterranean after tumbling off the edge of HMS Queen Elizabeth's flight deck.
The pilot ejected and was found safe, but the state-of-the-art fighter jet languished at the bottom of the sea and has only recently been recovered.
The jets are operated by the renowned 617 Squadron, also known as the "Dambusters" squadron.
A visit to the carrier by Prince Charles scheduled for a few days later was cancelled following the incident.
Earlier in the voyage, Type 45 destroyer HMS Defender was involved in a stand-off with the Russian navy after it sailed close to Crimea in June.
The CSG is manned by 3,700 sailors, aviators and marines from the combined forces of the UK, US and the Netherlands.
Related Internet Links
The BBC is not responsible for the content of external sites.