Plans for 500 flats next to Southampton's St Mary's Stadium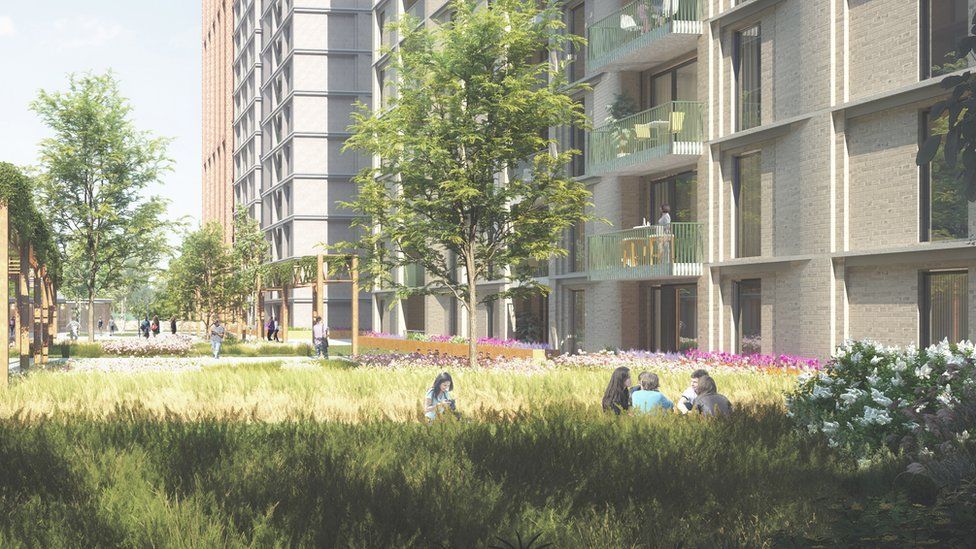 Plans for hundreds of new flats near the home of Southampton FC have been unveiled.
Developers want to build between 400 and 500 private rent flats at the gasholder site next to St Mary's Stadium in Southampton.
Hawkstone Properties and Groner Developments said the £100m project could also involve shops and a gym.
Plans to demolish the two gas holders at the site have already been approved.
Developers said some elements of the locally listed structures, built in the 1909 and 1935, would be kept as part of the new development in Britannia Road in the Northam area.
Simon Handslip, from Hawkstone Properties Southampton, said the scheme would be "a catalyst" for the regeneration of the wider area.
He also said retaining elements of the gasholders would help "acknowledge the history of the site".
The plans are for build-to-let flats, which would only be available for private rent and not for purchase.
Leader of Southampton's Labour group councillor Satvir Kaur said she thought more could be done to help the site retain its heritage and more effort could be made to ensure the new homes are affordable.
But deputy leader of the Conservative-run local authority Jeremy Moulton said the development was "positive for the city".
He said: "It is a site that has to be regenerated. We desperately need new homes.
"The right thing to do is regenerate sympathetically and use a new development to tell the story of that site."
Final plans are expected to be submitted to Southampton City Council at the beginning of 2022.