Sophie Fairall: Mum meets health secretary to discuss childhood cancer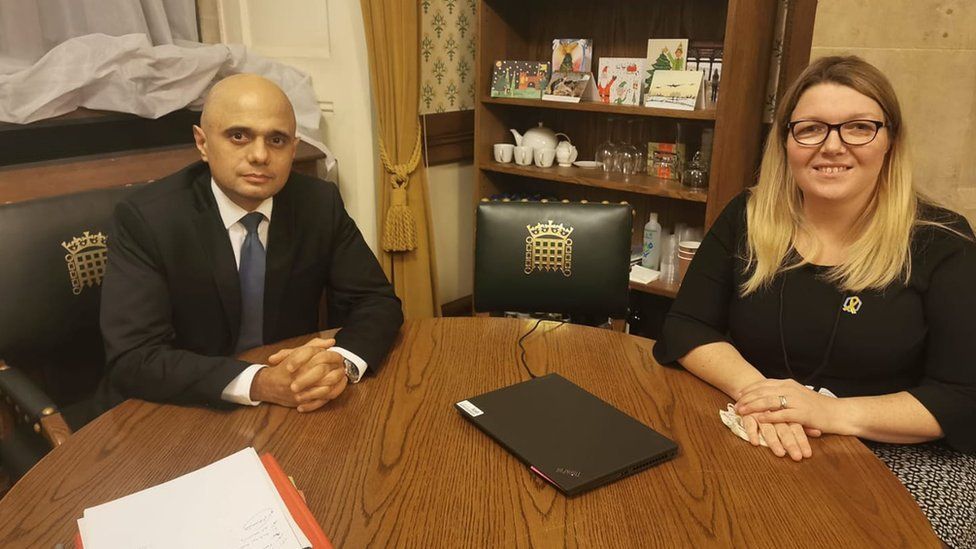 The mother of a 10-year-old cancer patient has met with health secretary Sajid Javid in a bid to increase awareness of cancer in children.
Sophie Fairall, from Stubbington, Hampshire, died from a rare form of tissue cancer in September.
Now her mother, Charlotte, is fighting to ensure better treatment for children and their parents in hospital.
Mrs Fairall said she thought her daughter "would have been happy" her wishes were being heard.
Mrs Fairall has been campaigning to raise awareness of cancer symptoms in children, for sufficient training in GP surgeries and access to food in hospitals for parents.
Mrs Fairall said many hospitals don't currently offer food to parents staying overnight with their children and the pandemic made it "even harder" because hospital restaurants were closed.
She said: "It was something important to Sophie, she used to say to me: 'You don't have a choice to be here mum, you have to be here because you're with me, but they aren't giving you any food.' She really was on a mission."
During her meeting with Mr Javid, Mrs Fairall also highlighted the fact referrals are not handled in the same way as adults with a cancer diagnosis and a lack of investment for solid tumour cancers in children.
She said: "I just thought I have a short amount of time to make the biggest impact. Sophie was clearly with me giving me every bit of strength I needed as I was so strong, didn't cry and got what I needed across."
Mrs Fairall said the health secretary seemed "really surprised" by some of the issues she raised and promised her he would look into them.
She added: "I really could not have pushed any harder. I just hope it's stuck, with everything going on with the pandemic right now. I honestly won't stop until these changes happen."