Prince Charles cancels statue unveiling after catching Covid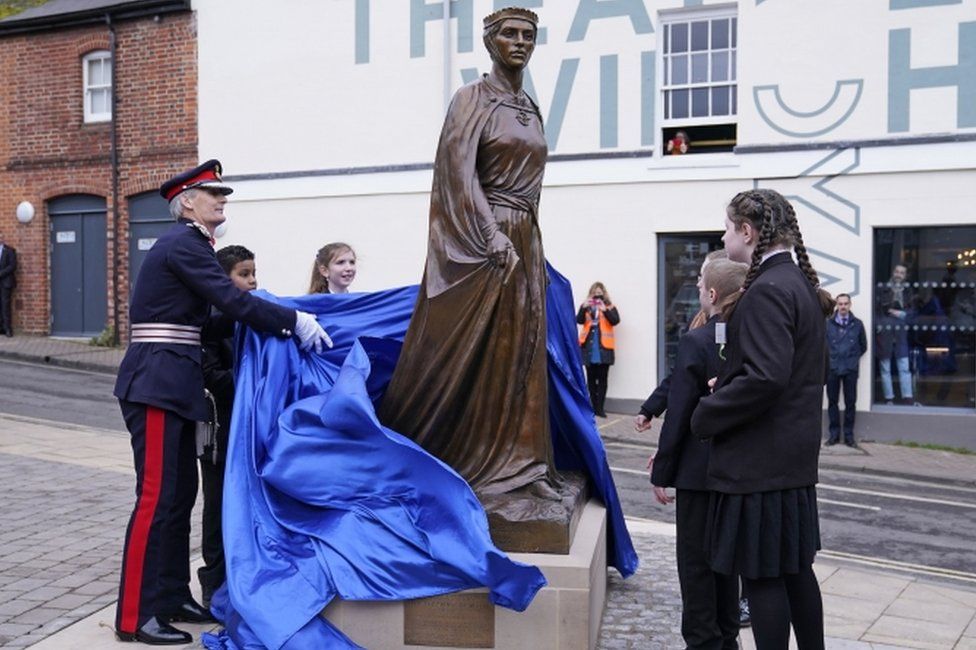 The Prince of Wales has cancelled a visit to Winchester to unveil a statue of a Jewish businesswoman after he tested positive for Covid-19.
The statue of Licoricia of Winchester was unveiled on his behalf in the Hampshire city where she lived.
The prince sent a message in which he said he was "desperately disappointed" and hoped to visit the city soon.
He had also been due to meet with members of the Jewish community and school children before attending a civic reception at The Great Hall.
The announcement of the prince's positive test was made around 12 minutes before he was due to arrive in Winchester.
More than 1,000 people were gathered behind barriers in the city's Jewry Street.
The life-sized bronze statue, by sculptor Ian Rank-Broadley, shows Licoricia with her youngest son holding her hand.
She rose from obscurity to become one of the wealthiest women in 13th Century England, providing loans to kings, queens, bishops and the nobility.
Her wealth contributed to the building of Westminster Abbey and helped bankroll three English kings, but she was also faced with a rise in anti-Semitism.
She was murdered in 1277 but no-one was ever convicted.
People gathered to watch her statue being revealed outside The Arc centre in Jewry Street, where Licoricia was known to have lived.
A message from the prince was read out in which he said: "I am so sorry that I cannot be with you today. I am desperately disappointed as I was so looking forward to marking this historic occasion with you.
"I hope very much that I will be able to visit at a future time but for today please accept my most heartfelt apologies and my very best wishes as you mark this memorable occasion for Winchester."
The statue's plinth has the words from Leviticus 19:18, "Love thy neighbour as thyself", inscribed in both English and Hebrew.
It was blessed by Ephraim Mirvis, chief rabbi of the UK and Commonwealth.
Licoricia of Winchester Appeal trustee Tony Stoller said it "greatly welcomed" the prince's interest in the project.
He said: "We are naturally disappointed that Covid has frustrated The Prince of Wales' intention to unveil the statue today, but we thank him for his message of support.
"We wish His Royal Highness a speedy and complete recovery and look forward to welcoming him to Winchester and to see the statue at a later date."
Related Internet Links
The BBC is not responsible for the content of external sites.