Hampshire PCC criticises own force over social media arrest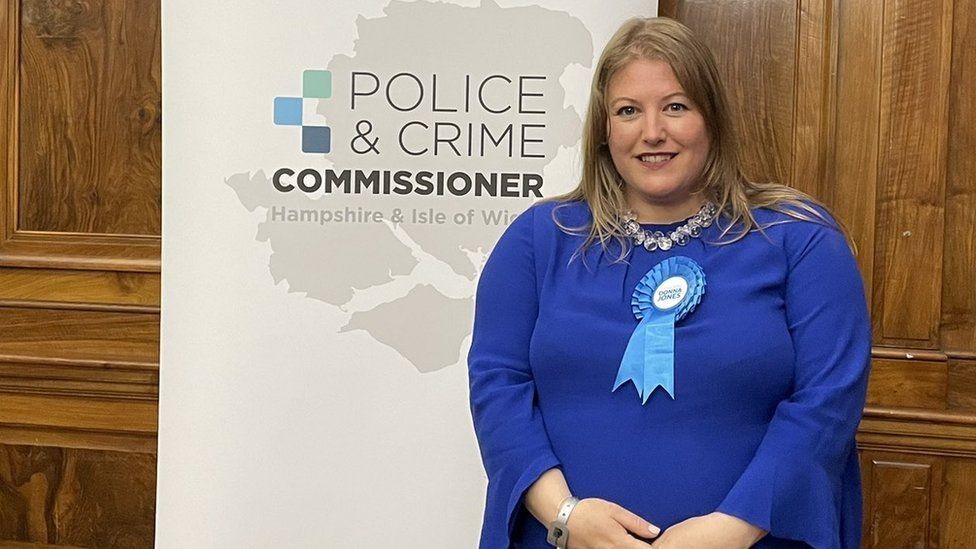 A police and crime commissioner (PCC) has criticised her own force for sending officers to investigate an alleged offensive social media post.
It follows videos posted by political activist Laurence Fox showing Hampshire Constabulary officers attempting to make an arrest in Aldershot.
Donna Jones, PCC for Hampshire and Isle of Wight, said she was concerned about the "necessity" of the police response.
It related to a post showing Progress Pride flags in the shape of a swastika.
Ms Jones said the videos posted by Fox showed the arrest of two men on Thursday, one for malicious communications and one for obstruction of a police officer, following a complaint of an alleged hate crime.
She said: "I am concerned about both the proportionality and necessity of the police's response to this incident.
"When incidents on social media receive not one but two visits from police officers, but burglaries and non-domestic break-ins don't always get a police response, something is wrong."
Ms Jones said she would be writing to the College of Policing to encourage "greater clarification" to ensure police forces respond "more appropriately in the future".
Hampshire Constabulary said, after initially visiting the property, officers agreed to return on Thursday.
When they returned they were prevented from entering so arrested the 51-year-old suspect so they could interview him about the alleged offence.
He has since been released and will face no further action.
The force said the officers had been "acting in good faith" after being deployed to investigate the image shared online.
A spokesman said: "We are engaging further with our police and crime commissioner to make sure that we deploy our resource in a way that reflects need in our local communities."
Related Internet Links
The BBC is not responsible for the content of external sites.