English Channel: Scientists use worms to solve algae threat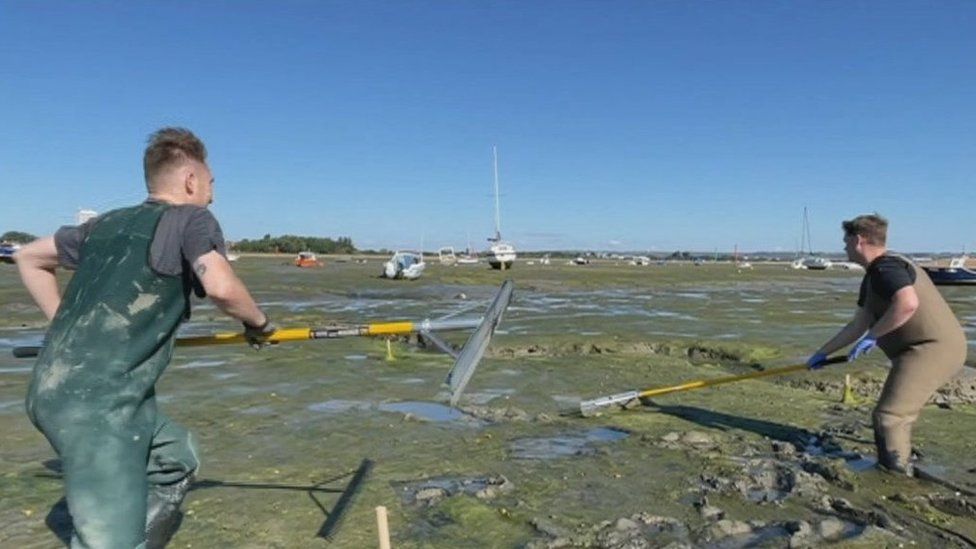 Worms and oysters may be the key to improving water quality in the English Channel, according to researchers.
Scientists at the universities of Portsmouth and Bournemouth are working with teams in France to tackle the increasing amount of algae.
Formations known as algal mats are caused by higher nutrient levels in the sea, due to fertilisers, waste water, and sewage discharges.
Scientists hope to reduce the algae using natural measures.
The RaNTrans (Rapid reduction of Nutrients in Transitional Waters) project is also working with Natural England to tackle the problem.
One technique involves feeding the algae, which cover thousands of hectares, to polychaete worms and then converting it to food for aquatic-farmed animals.
It can also be tackled by introducing oyster colonies which reduce the nutrients in the water.
Tests are taking place at sites in Baie des Veys, Calvados and Ledano Mudflat, Côtes d'Armor, in France, as well as Langstone Harbour in Hampshire and Poole Harbour in Dorset.
RaNTrans project leader Prof Gordon Watson, from the University of Portsmouth, said: "More must be done to turn the tide and enable nature recovery".
"With the results of this project, we hope to be at the forefront of further research into the reduction of nutrients around our coastlines."
Allison Potts, Natural England's Thames Solent area manager, said: "Poor water quality in the Solent is a significant environmental issue and we are very keen to be exploring ways to make our water cleaner.
"Not only is this good for the Solent's important wildlife, but also because it is such an important place for the people who live, work, and recreate here too."
Chief executive Marian Spain added: "Restoring nature and harnessing its power as the solution to the urgent problems we face is absolutely vital if we are to tackle climate change, biodiversity decline and water pollution."
She said that "no one organisation, or country, can do what's necessary on its own".
The three-year project concludes in June 2023.
Related Internet Links
The BBC is not responsible for the content of external sites.