Isle of Wight cliff-face tunnel sparks planning row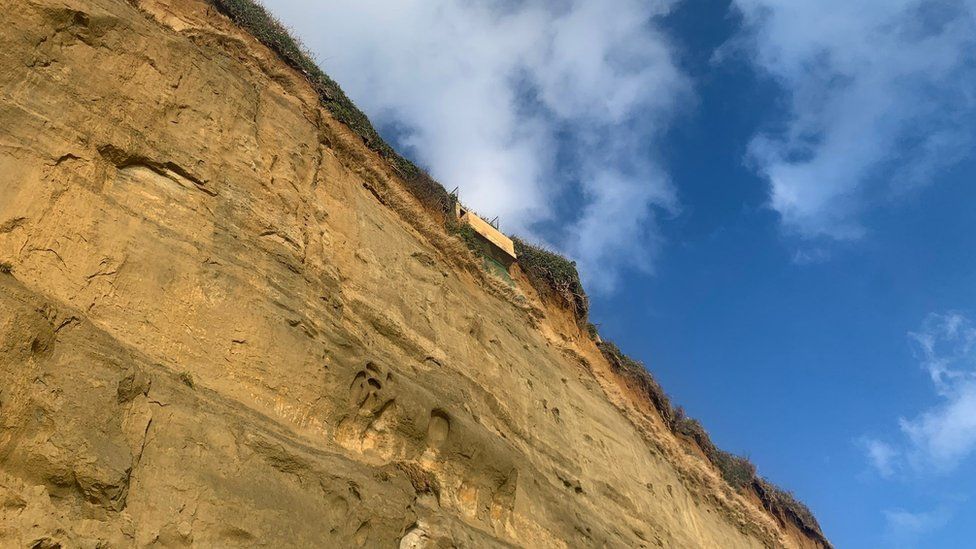 Plans to extend a private tunnel to a cliff-face viewing platform have split opinions in a coastal village.
An 8m tunnel currently connects a property in Lake on the Isle of Wight with its own viewing platform nestled into the cliff overlooking Sandown Bay.
The homeowner has submitted plans to extend the tunnel and insisted it would be safe to carry out the work.
Lake Parish Council has warned the tunnel could affect the stability of the cliffs.
When the house on Cliff Path in Lake was built in the early 1900s, it was intended the tunnel entrance would link to the property's basement, said planning agent Phil Salmon in documents submitted to Isle of Wight Council.
A recessed area was built into the basement but the tunnel access was never completed.
The tunnel walls would be built with steel-reinforced poured concrete, brick facework and waterproof membranes.
While it was an unusual application, Mr Salmon said it was "essentially a domestic extension".
As part of the application, structural engineering firm Such Salinger Peters said the construction of the tunnel extension would not have an adverse effect and would "improve the cliff stability".
The extension has split opinions, with one neighbour saying it was a "wonderful" idea but another said it would be "catastrophic".
Lake Parish Council has "recommended in the strongest terms" the application be refused as it would disturb an unstable cliff without reason.
Ward councillor Paul Brading said: "Everyone knows that the state of the cliff is very fragile and has got dangerously worse over more recent years.
"This was proven by the collapse in 2010 a few metres along from this proposed tunnel."
He said it would potentially endanger the businesses and beach huts on the Revetment below.