Girl died of natural causes, rules coroner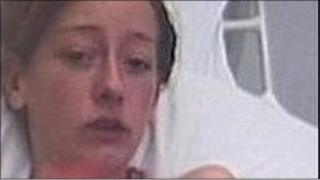 A girl died of natural causes three days after being discharged from hospital, an inquest has ruled.
Amy Carter, 15, of Stourport-on-Severn, died on 24 December 2009 after being diagnosed with glandular fever at Worcestershire Royal Hospital.
She died from an infection which may have developed after she left hospital, Coroner Margaret Barnard was told.
Amy's parents, who criticised medical staff for sending her home, said they were unhappy with the verdict.
The teenager was discharged from the Worcestershire Royal Hospital on 21 December.
On Christmas Eve her condition got worse and she was re-admitted to hospital, where she died later that day, the inquest heard.
Amy's parents said they were unhappy with the care she received and they would continue to ask questions of the hospital authorities.
'Very rare'
Her mother, Jackie Carter, said previously that Amy left hospital without being able to eat or drink properly and the teenager had asked her doctors to let her stay.
Mrs Carter said after the inquest she was not allowed to ask questions about her daughter's water and food intake at the hospital.
She said she still had "loads of questions" about her daughter's death.
Worcestershire Acute Hospitals NHS Trust, which runs the hospital, said a full investigation into Amy's death "found that at all stages of her hospital stay Amy received appropriate care".
Chief Executive John Rostill said: "Sadly, no-one could have predicted that following Amy's discharge from hospital with glandular fever she would develop the very rare and overwhelming type of streptococcal infection which led to her tragic death."
He added: "We have strived to keep Amy's family fully informed about the investigation and its findings and we would once again like to extend our sympathies to them at this extremely difficult time."