New Worcester library to get waterproof walls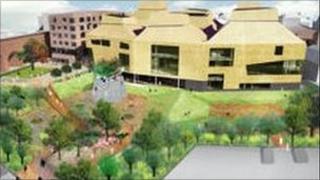 "Water-friendly" plants and waterproof concrete chambers are being used in the building of a new £60m library situated by the River Severn.
The site was flooded in 2007 when the river burst its banks, damaging numerous properties in the city.
Now, the new library and history centre will have a large, grassed area on one side which, along with plants, will help absorb any water.
Archives will be kept in the lowest floor with waterproof chambers.
'Linking university'
The centre, being built in the St Clement's area of Worcester and near to the new University of Worcester campus, will have indoor and outdoor working areas and quiet spaces, the county council said.
It also will include learning and heritage facilities and is thought to be the first of its kind in the UK, integrating a university library with a public one.
The county's Record Office will also be based there along with an archaeology service and exhibition and meeting facilities.
The project is a joint operation between Worcestershire County Council and the University of Worcester and is due to be completed in 2012.