Ceremony for £1.9m Evesham street scheme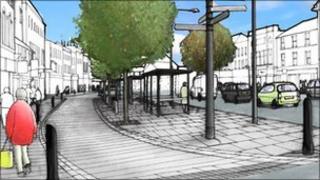 An official opening ceremony has been held to mark the completion of a £1.9m high street improvement scheme.
More space for pedestrians has been created and crossing facilities have been improved as part of the project in Evesham, Worcestershire.
But businesses said turnover had dropped by up to 60% because of the roadworks.
The county council said it had "catered for all the needs of the town".
'Much smarter'
Tony Rowland, from the Vale of Evesham Commerce and Tourism Association (Vecta), said some of the shops and businesses were affected "extremely badly".
"Turnovers have dropped between 40% and 60% from normal weekly turnovers," he said. "That has a dramatic effect on businesses and there have been a number of redundancies made throughout the town.
"However, we must remember that the actual town centre environment now is much smarter and hopefully the council will have created an environment which businesses want to come into."
Road width
Councillor Derek Prodger, from the county council, said it "did listen to the traders".
He said: "We did listen to the people from all sorts of ways of life - taxi drivers, bus operators. This has been consulted on for about eight years before we even started.
"I feel we've enhanced Evesham tremendously. I don't believe the traders suffered a great deal. We thanked them for their patience."
Engineering project manager at the council, Richard Attwood, said: "We've catered for all the needs of the town as far as we're able in terms of reducing the road width, improving crossing facilities, improving the visual appearance and making the area more attractive."
A ceremony was held in the High Street area on Monday afternoon.