Domesday Brampton Bryan castle opens to public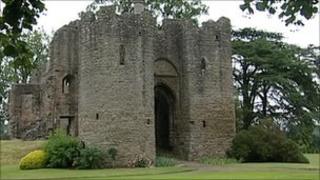 A historical castle mentioned in the Domesday Book has been opened to the public for one day only on Sunday.
The Harley family have lived in Brampton Bryan in Herefordshire for 700 years and the public can visit the castle on their estate on Sunday.
The castle was the scene of two sieges during the Civil War when a Harley ancestor fought off the Royalists.
The family said the funds raised would go towards the upkeep of the village church.
Edward Harley said part of the appeal of the castle ruins and the surrounding village was because the family have such strong links to them.
More than 20 generations of the Harleys have lived in the village.
"I think that what is probably unusual about Brampton Bryan and the castle here is that the property has never been bought or sold because the Brampton family had it at the time of the Domesday Book and we married them, as it were, in 1309 and it's been in the same family throughout," he said.
During the Civil War, it was Lady Brilliana held off a Royalist invasion for several weeks.
"There were two sieges here and the castle was defended by my redoubtable ancestor Lady Brilliana Harley," Mr Harley added.
"This rather splendid woman fought off the Royalists, as it was, during two sieges."
The castle is open for tours as part of the annual Brampton Bryan Scarecrow weekend.