Review follows tripping reports in Hereford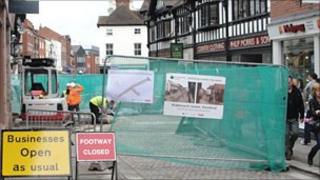 Construction work may have restricted people's views of a Hereford shopping street and resulted in some tripping over the kerb, a review has concluded.
Herefordshire Council said it regrets any incidents associated with the work on Widemarsh Street.
The report added that the temporary absence of vehicles may have caused walkers to associate the space with fully pedestrianised areas.
The number of incidents being reported has gone down, the council said.
'Attractive design'
And added that it the figure had "significantly reduced" on one of Hereford's main shopping streets following temporary tape markings being put on kerb edges.
The design review concluded that the current construction work and temporary screens may have restricted and distracted pedestrians views of the street as a whole and resulted in some people missing their step or tripping over the kerb.
A team including streetscape designers Hamilton-Baillie Associates has reviewed "every aspect of the design", the council said.
'Very similar'
It added: "The design review reported that there are no design problems associated with the use or layout of the materials and kerb arrangements.
"Similar kerb details have been used extensively in other parts of the country and elsewhere, without significant problems.
"The new kerb detail was also found to be very similar to the previous arrangements for Widemarsh Street, particularly the kerb height."
It said the design team did not recommend any extensive permanent or remedial action "until the impact of the construction can be more fully assessed".
The authority thanked everyone who reported how and where they tripped so their experiences could be analysed.
The scheme is due to be completed in time for the Christmas shopping season.