Worcester children raise £300 for Pakistan flood appeal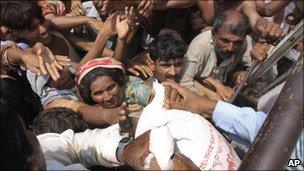 A group of children in Worcester raised about £300 in two hours for flood victims in Pakistan by collecting cash door-to-door.
The youngsters from Redfern Avenue ordered the clothing online and wore specially-designed T-shirts, saying "Pakistan Needs You".
Ward councillor Jabba Riaz said the youngsters were "kind of putting the adults to shame".
At least 1,600 people are known to have died in the monsoon floods.
The Pakistani government has said up to 20 million people have been affected and some six million have been estimated to need urgent food aid.
Aid agencies have said survivors, especially children, were also at risk from diseases such as cholera.
Mr Riaz, who represents the Cathedral ward on Worcester City Council, said: "The thing about children is they see the human cost of disasters like this.
"They see the images of the children with flies on their eyes and the mums who've lost their children and they don't see the political side of it."
Mr Riaz added the youngsters met secretly, decided what to put on the T-shirts, ordered and collected the clothing and got some buckets together.
Related Internet Links
The BBC is not responsible for the content of external sites.