Service to mark 1940 bombing raid on Worcester factory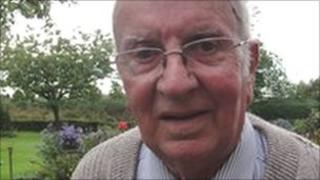 A remembrance service was held on Sunday to mark the 70th anniversary of a bombing raid in Worcestershire by the German Luftwaffe.
Seven people died and about 60 were injured when the Meco works on Bromyard Road, Worcester, was hit on 3 October 1940 during the Battle of Britain.
The factory originally made mining equipment and is now part of a multi-national mining firm.
The service was at St John-in-Bedwardine Church in St Johns.
Dennis Bluck, 85, was an apprentice at a nearby factory and said he saw a plane and then heard an explosion.
Battle of Britain
He said: "I was walking from one workshop to another, looked up, and saw this plane with the swastikas on and black crosses.
"I can't remember quite whether the sirens were sounding, but they did shortly afterwards, and then I heard the explosion."
Churchill called the Battle of Britain the nation's finest hour, and it helped change the course of World War II.
More than 500 British and Allied airmen lost their lives during the period.