Mappa Mundi display in Hereford gets £50,000 boost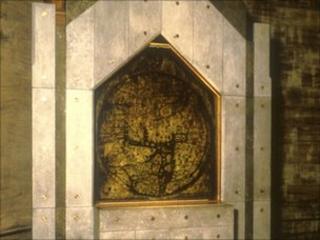 A map of the medieval world is to get an updated exhibition and display funded by a £50,000 lottery grant.
The Mappa Mundi, drawn up around 1300 and kept at Hereford Cathedral, is thought to be the oldest map of the world still in existence.
Canon Chris Pullin from the Cathedral said he was delighted as the current exhibition was beginning "to look tired".
The exhibition will reflect stories about the map and its origins.
'Heritage gem'
Anne Jenkins, head of the Heritage Lottery Fund West Midlands, said: "The Mappa Mundi is the oldest and perhaps the most famous map in the world and a heritage gem for Hereford and its community to have on its doorstep.
"We look forward to seeing the improvements this grant will bring to the exhibition for people of all backgrounds and ages."
The Mappa Mundi was added to the Unesco Memory of the World International Register in 2007.
It shows Jerusalem at the centre of the world and includes Biblical and historical events as well as geographical locations.