Army captain aims for ski success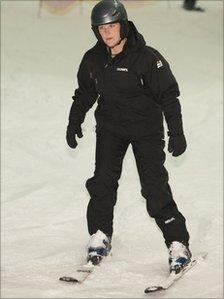 An army captain who lost her leg below the knee in a bomb blast in Afghanistan is aiming to take part in the 2014 Winter Paralympics.
Kate Philp, 32, from Knightwick, Worcester, was injured where her vehicle was hit in November 2008.
She has learnt to ski using a prosthetic leg and she, along with her team, hopes to take part in the 2014 games in Sochi, Russia.
Capt Philp is currently based at Larkhill, near Salisbury.
She had her first skiing lesson in August.
"I can't speak with much experience from before, but it's not been very difficult to adapt, and I'm very fortunate that I have my knee," she said.
"I like the adrenalin rush of skiing, and the speed, although I would like to develop a bit of style to it."
She has joined the Combined Services Disabled Ski Team, made up of 12 serving soldiers with permanent disability inflicted by injuries from an operational tour.
The team will compete in a range of military, national and international races through the year with their first being the Royal Engineers Championships in December in Austria.
Capt Philp has also been working to promote The Army Benevolent Fund since the incident.
Related Internet Links
The BBC is not responsible for the content of external sites.