Bosbury home to be demolished after tractor hit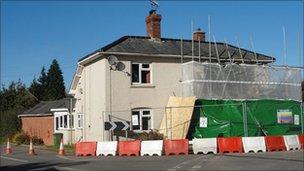 A couple in their 70s may have to live in temporary accommodation for up to 18 months after a tractor hit their home.
Doug and Mary West, who have lived in their house in Bosbury in Herefordshire for 27 years, were in the living room when the tractor struck the property.
The couple have now been told the house will have to be demolished.
Previous incidents had involved tractors dislodging a few bricks, said Mr West. "Nothing like this has ever happened to me before," he added.
He said he would like the council to install permanent traffic lights by his home to prevent anything similar happening again.
The B4214, between Bosbury and Staplow was closed for several hours after the incident.
"We've had disasters here, we've had floods, we've had tractors hit the house but knock six or eight bricks out but nothing to this extent," he said.