Award for 18th Century Droitwich wall paintings work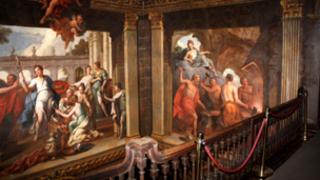 An 18th Century Worcestershire house has won a national award for the conservation of wall paintings.
The honour relates to the 1710 Sir James Thornhill paintings, which adorn the main staircase at Hanbury Hall in Droitwich, where work cost £80,000.
Icon (the Institute of Conservation) awarded its Pilgrim Trust Award for Conservation to the Perry Lithgow Partnership over the paintings.
The National Trust said wall paintings at the site give a 3D impression.
'Bold move'
The large pieces of art which adorn the main staircase walls depict the Greek god Achilles.
Hanbury's conservation work included cleaning the surface of the wall paintings, consolidating cracks, repairing previous restoration work and restoring areas of flaking paint.
The National Trust added the judges for the Pilgrim Trust Award said it was a "bold move" to let the public view the paintings via scaffolding, "thus creating an excellent model for public access".
Hanbury's house steward, Michelle Hill, said: "To have been able to provide access to the public whilst the work was taking place earlier this year... was great and we are really pleased to have received this recognition."
Catherine MacCarthy, National Trust head of conservation services Midlands, said it was "one of the most important wall painting conservation projects" it has carried out in the trust.
Sir James Thornhill, who was commissioned by Hanbury Hall's builder, Thomas Vernon, also painted the dome of St Paul's Cathedral and the Painted Hall at Greenwich.
The Conservation Awards were launched in 1991, are supported by Icon and are sponsored by The Pilgrim Trust, Digital Preservation Coalition and the Anna Plowden Trust.
Since 2005, the awards have also been generously supported by Sir Paul McCartney, the National Trust said.