Scaffolding on windscreen of car in Kington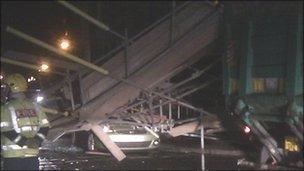 A lorry reportedly collided with scaffolding and some fell onto a car windscreen, the ambulance service said.
Staff were deployed to the junction of High Street and Bridge Street in Kington, Herefordshire, late on Tuesday afternoon but nobody was injured.
AF Blakemore & Son said a lorry involved belonged to the firm and was doing deliveries on behalf of Spar.
The firm, based in Willenhall, West Midlands, added a driver "caught some scaffolding".
A company spokesman said: "It will be dealt with through insurance".
An ambulance and a rapid response vehicle were sent after the service was called at about 1710 GMT on Tuesday.
A spokesperson said: "Crews found a lorry which had been in collision with some scaffolding, but fortunately nobody was injured."
Related Internet Links
The BBC is not responsible for the content of external sites.