Gloucestershire police witness appeal to fatal M5 crash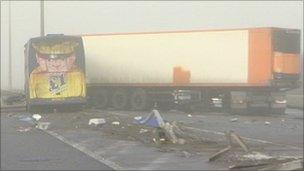 Police are appealing for witnesses to a fatal crash involving a coach, a lorry and two cars on the M5 in Gloucestershire.
A man in his 30s, from Birmingham, died in the crash early on Sunday morning near junction eight.
The M5 was shut for 13 hours. Police said a coach collided with a lorry travelling northbound, which then crossed to the southbound carriageway.
The ambulance service said no-one else involved was seriously hurt.
Acting Sgt Richard Davis, of Gloucestershire Police, said: "Well potentially this could have been a very serious incident - more than it was.
"The weather conditions at the time were atrocious. Visibility was seriously reduced - obviously it was dark and foggy."
Related Internet Links
The BBC is not responsible for the content of external sites.